Today Luis and I celebrated our 25th wedding anniversary.
We were married on September 20, 1992, however, we had to delay our observance of this special milestone due to the horrible pain I was in four months ago.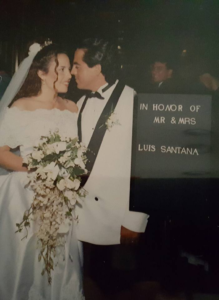 Since I was 25 when we were married, I bet you can guess which other milestone had to be put on hold…yep, my 50th birthday which was in July.  That's okay, I'm looking forward to my do-over of that one too.
We had brunch at The Reef in Long Beach and took a trip down memory lane.  Acknowledging how much we have been through together and some of our favorite memories; like backpacking through Spain with our friends Sally and Mark, rafting on the American River (also with Sally), all those camping trips to Carpinteria early on, the time we went to New York with my dad and Pat (my dad's third ex-wife), the time we traveled the Oregon Coast with Kathy (my dad's second ex-wife) and her husband, Craig.
We went to Puerto Vallarta for our honeymoon.  Luis says that is one of his favorite memories.  It is a favorite of mine too–but I also remember it as the time I was attacked by mosquitoes throughout the nights, received flea bites all over my buttocks during what I thought was going to be a romantic horseback riding adventure, and as the time a tick infiltrated my leg just before we boarded a boat.  My doctor literally laughed when I went to him to make sure I was okay after we returned.  By the way, if you're wondering Luis didn't get a single bug bite.
Anyhow, I could go on and on because the experiences really start to add up when you've been together this long but I'm going to focus instead on what Luis has taught me during this time.
Sadly, when he proposed my initial thought was yes we'll get married, we'll have a big party, and then we'll get divorced.  Divorce was all I knew since both my mom and dad were married and divorced three times each (technically, my mom remarried her third ex-husband so I guess she has been married four times).  I was so busy trying to survive as I was growing up that marriage and kids just weren't the things I thought about.  Frankly, I never thought I'd live past 30.
During the first couple of years of our marriage, I threatened divorce each time we got into a major disagreement but Luis always retorted with "divorce is not an option."
He taught me how to really commit.  He also taught me what love is.  It's because of him that we have our son.  He wanted a child for so long but I was focused on building my career.  I finally gave in at the tender age of  37.  Truth be told, I was afraid to have a kid (terrified actually) however, I can't imagine life without our son now.
At the time of my seizure, Luis and I were not getting along all that well.  I was busy being a workaholic and he was mad at me for not spending enough time with the family.  Imagine the gall, my husband (and son) wanted to spend time with me.
When I fell ill, I finally realized what a great man I married.  Luis is patient, protective, kind and loving.  I knew these things before (well, maybe not the patient part) but I was too caught up in everything I was trying to accomplish to stop and notice.
There have been a few times during our 25 years together when I re-fell in love with him.  One was after our son was born and the other was when he was taking care of me after the craniotomy.
I have learned how very blessed I am to have such a wonderful man as my husband, friend, and partner.  We realized today how far we have come and we agreed to renew the lease for at least another 25 years, God willing.