When I was working, I used to take everything so darn seriously. I was a perfectionist and it was as if every task was a matter of life or death. Well, just look how that turned out…it took a brain cancer diagnosis for me to learn the real meaning of life and death. With all that's going on in the world right now, I think many of us are being forced to contemplate how precious life is. That's the reason I have been writing and sharing so much lately. This next interview is with a delightful young lady who has reinforced all of this for me. She's inspirational, wise, and loving. Meet 21-year-old, Isabel Neidorf; a 17-year brain cancer survivor who is living her best life.
Interview with 17-year brain cancer survivor and the inspiration behind Heart of the Brain, Isabel Neidorf
Hello Isabel. I'm very excited to have a chance to interview you today. As a 17-year brain cancer survivor, you are an inspiration to so many of us. You are even the inspiration behind Heart of the Brain (HOTB), which as you know is a Los Angeles-based 501(c)(3) non-profit organization that was formed a few years ago as a result of a merger between the Isabel Gloria Neidorf Foundation (founded by your parents in 2014) and Art of the Brain (founded in 2000 by Judi Kaufman). You must be so proud of HOTB and its current five-year goal of raising $5 million toward the mission of finding a cure for brain cancer.
Wendy: I understand you were diagnosed with an Oligodendroglioma brain tumor in 2003 when you were just four-years-old. I can't imagine how tough that had to have been for you and your family. What do you most remember from your childhood?
Isabel: Seizures, Doctors, Chemo, Hospitals, surgeries and having fun as a kid.
Wendy: I'm so glad you were still able to have fun as a kid despite your medical issues. How do you think overcoming so much in your life made you the person you are now?
Isabel: I have learned to have empathy toward others, not to sweat the little things, and always keep it all in perspective.
"I have learned to have empathy toward others, not to sweat the little things, and always keep it all in perspective."
Wendy: Such wise words–especially from someone so young. Can you tell us a little about what you had to overcome?
Isabel: I overcame my anxiety, the fear of being accepted and not judged for my disability. There were days that I was depressed thinking "why me" but I realized that I am so lucky to be able to have a normal life and there are so many other children struggling with worse issues.
Wendy: Oh my gosh Isabel, you're such a special soul. The world needs people like you (especially now) who are kind, gentle, and thoughtful of others.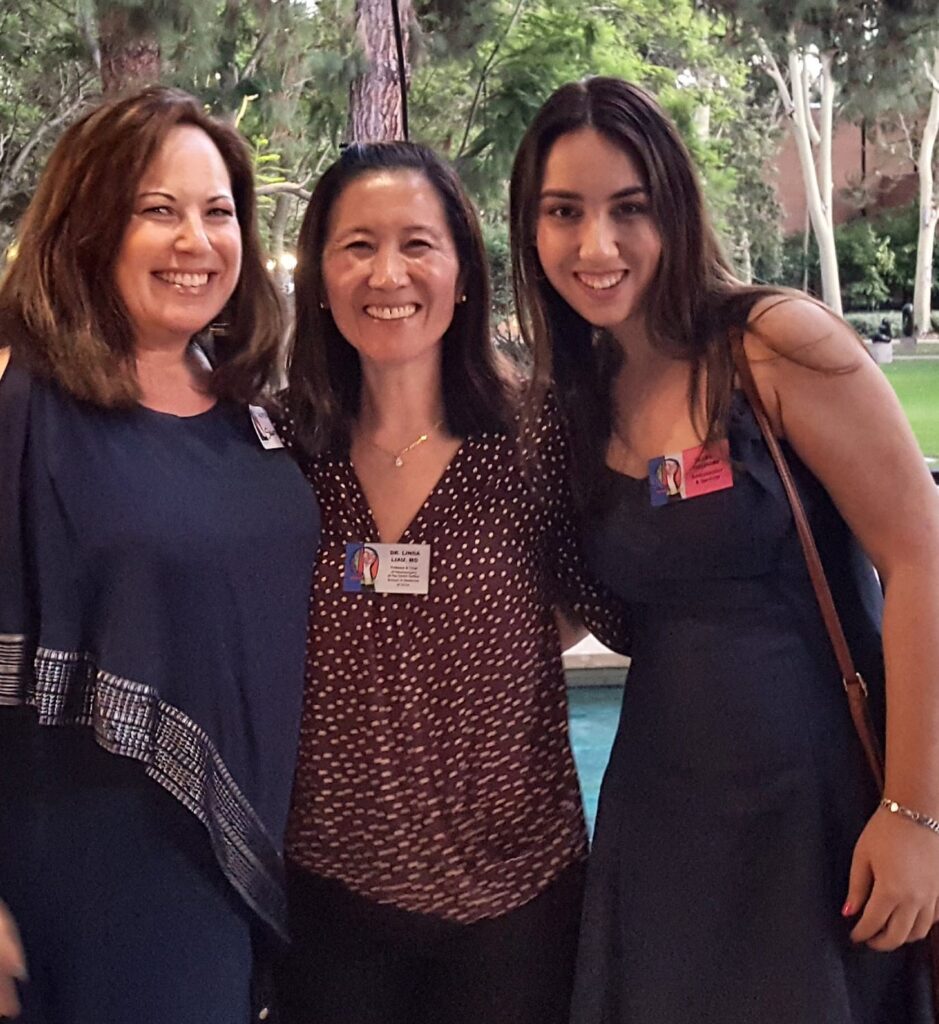 Wendy: Not only do we share the same type of rare tumor, but we also share the same brilliant neurosurgeon; Dr. Linda Liau, and the same accomplished neuro-oncologist; Dr. Timothy Cloughesy. As we both know Dr. Liau and Dr. Cloughesy co-run UCLA's Brain Tumor Center which receives support from HOTB donations (https://www.hotb.org/ ). If I recall correctly, you recently had the opportunity to intern with Dr. Liau's development team. How did that go?
Isabel: It was great! I loved it! I learned how to interact with people in an office setting and how to take instructions from others. I was able to volunteer at the biggest annual fundraiser that the neurosurgery department has called the "Visionary Ball." I was part of the set-up and check-in. I also volunteered with Team UCLA Neurosurgery's check-in booth at the "Hero's of Hope Race for Research 5K/10K run."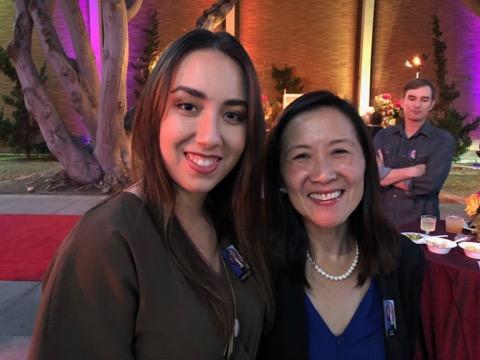 Wendy: Was the internship with Dr. Liau part of the Pathway program that you have been participating in through UCLA Extension? What kinds of things did you learn as a participant in that program?
Isabel: Yes this was a part of Pathway credits. I learned so much. I learned independence. I also did PowerPoint presentations, mock interviews, practiced time management as well as organization skills.
Wendy: You turned 21 this year? What did you do to celebrate?
Isabel: My mom and four of my closest friends celebrated my 21st Birthday with me in Miami. It was such an amazing weekend!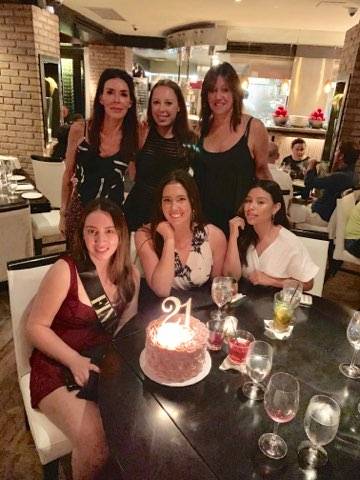 Wendy: That's awesome. Since I follow you on social media, I know you love to ski. How old were you when you first learned to ski and what else do you enjoy doing?
Isabel: I started on skis at the age of three. Then I took a break and returned when I was 10-years-old. I also love volunteering at UCLA Neuro-Sciences Dept. I help with their events. I'm also traveling to Sun Valley this summer to work with Higher Ground Adaptive Sport (this organization that taught me to ski). I'll be working with children with disabilities.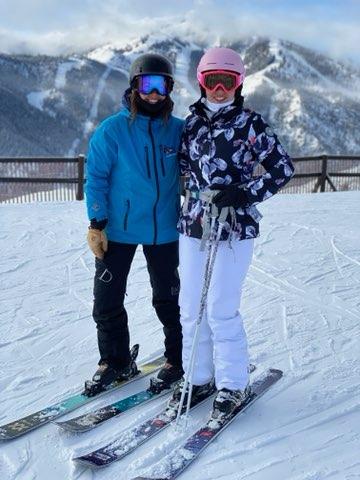 Wendy: Speaking of volunteering, you've been posting about some pretty cool volunteer projects that you've been doing lately. Please tell us about those.
Isabel: Well, when I was going through Chemo at the age of eight, Child Life Services made my infusion visits more enjoyable. I wanted to give back. In 2016, I purchased toys, coloring books, baby goods, and gift cards for both Cedars Sinai and UCLA's Child Life Services. I did the same in 2017. In 2018, I initiated a gift matching fundraiser and raised $6,000 to purchase new iPads for the older pediatric patients of Mattel Children's Hospital. In 2019, through my gift matching program, I raised over $14,000 which I used to stuff 125 gift bags with all sorts of fun items and handed them out at their Holiday Party. I had some extra money leftover and I was able to give out 100 Valentine's Day heart boxes filled with goodies. I love giving back.
"I love giving back."
Wendy: A natural fundraiser, I love it! Congratulations on raising all that money and making a meaningful difference in so many young lives. You're also a very talented artist. Didn't you create the HOTB logo? How did you come up with it?
Isabel: Yes, I did design the logo. The Isabel Gloria Neidorf Foundation (IGN) and Art of the Brain (AOB) merged in 2017 to form Heart of the Brain (HOTB). Judi Kaufman was the founder of AOB. Judi had the same tumor as us but sadly passed away in 2015 after nearly two decades of battling the disease. I wanted to keep Judi's memory alive and also bring something from IGN. I took the heart from IGN and merged a color version of Judi's profile outline. I also worked with a graphic designer.
Wendy: Wow, now that's grace! You've recently been quoted as saying, "One thing I've learned as a brain cancer survivor is that EVERY moment is precious." What are you hoping others will glean from that statement?
"One thing I've learned as a brain cancer survivor is that EVERY moment is precious"
Isabel: So many times we take things for granted. I've learned that we only have one life. So enjoy it, because life IS precious.
Wendy: So true and timely. I read that you have literally endured thousands of seizures over your lifetime. You are about to receive a trained service dog that will be able to sense when a seizure is coming on. How exciting is that? Have you met your service dog yet? What can you tell us?
Isabel: So excited just got word today on my Seizure Alert dog. It's a male, his name is "Michael." He's coming from an organization called the SDWR Foundation. Michael is being trained to alert by barking to signal that I'm having a seizure. He will also be trained to dial 9-1-1 if necessary.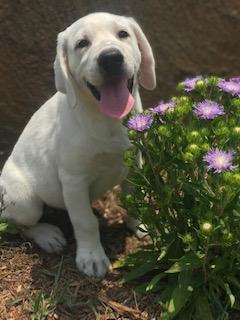 Wendy: What?! That is both adorable and amazing! I can't believe he is trained to dial 9-1-1, that is incredible! Is there anything else you would like to share? What advice do you have for other brain cancer/tumor survivors?
Isabel: I believe that support, love, strength and a positive outlook on life will keep you going.
I believe that support, love, strength and a positive outlook on life will keep you going.
Wendy: What are you most thankful for?
Isabel: I am so thankful for my parents who have always been there. They have supported me in everything I've done. I'm thankful for all of the incredible support from everyone who has helped in all our research efforts. I'm just thankful that I am able to have all these incredible opportunities.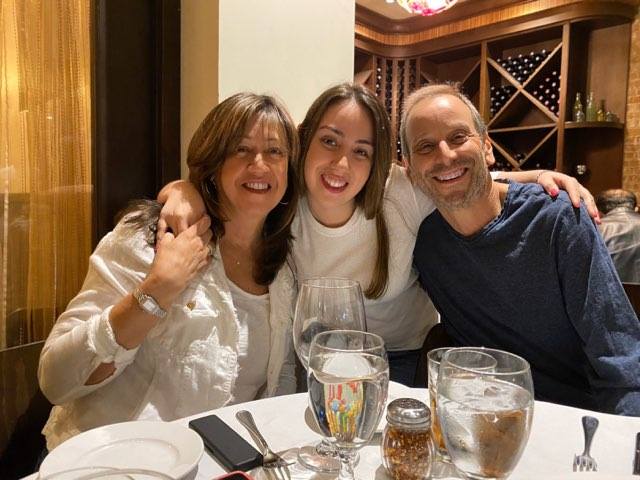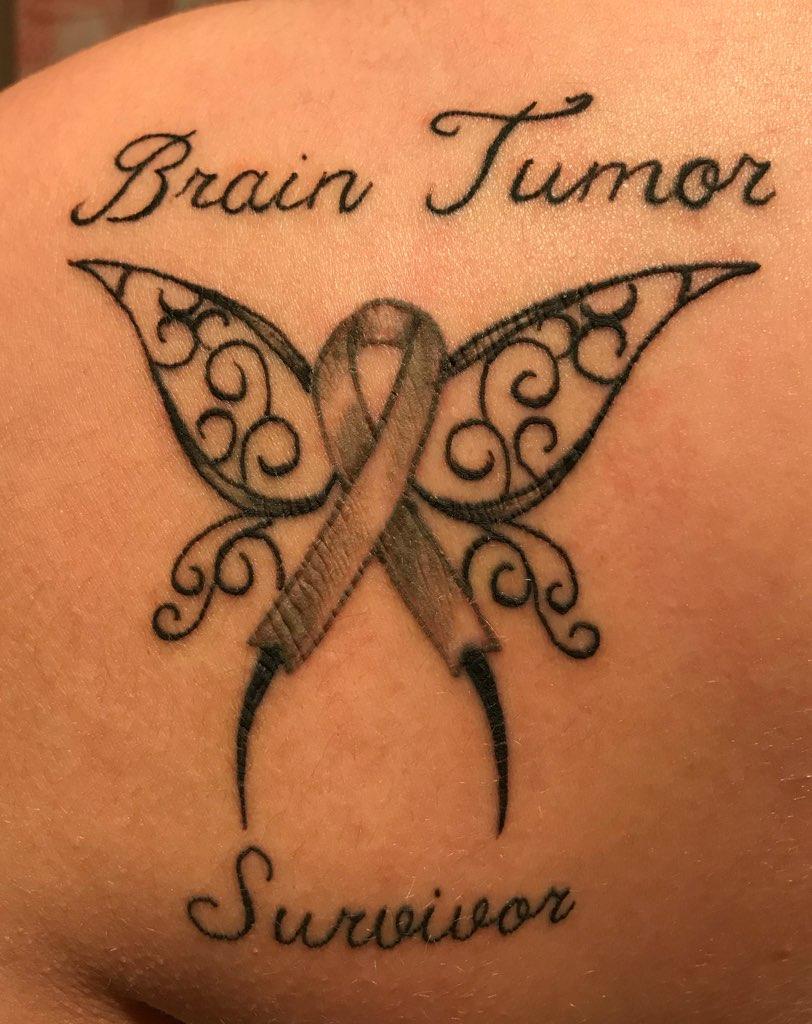 About Heart of the Brain (HOTB)
HOTB fundraises to support the work of world-class medical researchers and doctors, dedicated to understanding the causes and prevention of brain cancer; developing earlier detection techniques; and discovering new and improved treatments. Focused on solutions and progress, not limitations, HOTB — which supports the life-changing research happening at the Brain Tumor Center at the University of California Los Angeles (UCLA), led by doctors Linda Liau and Timothy Cloughesy — envisions a cure for all forms of brain cancer in our lifetime. ​ You can help! Learn more at www.HOTB.org.
About the UCLA Brain Tumor Center
The UCLA Brain Tumor Center is part of a prestigious network of scientists, researchers, and physicians who share the same goal: Delivering the best available treatments, while also working toward a cure. In 2017, UCLA's Jonsson Comprehensive Cancer Center and the UCLA Brain Tumor Center were designated a Specialized Program of Research Excellence (SPORE) by the National Cancer Institute, making it one of only six brain cancer programs in the nation to receive this recognition.