My good friend Julie finally convinced me to share my brain cancer journey as a guest on her podcast, "Clear Your Clutter Inside & Out." It's always great when your first is with someone you trust and love.
As Julie knows, I was hesitant to do a podcast due to the fact that talking on the phone (which was how we recorded our podcast) has become very difficult for me since my craniotomy. I don't know what it is about the phone but I do much better in-person. During my career as a fundraiser, I considered speaking on the phone as one of my greatest strengths–but that was prior to my craniotomy. Since my tumor was located in my left frontal lobe my speech was greatly affected. Following my surgery, I had to relearn everything including walking, talking, and driving. I had halted speech for the first few years and I think that is why I still have so much anxiety about the phone. In our case, we used Zoom which allows you to see each other and I think that helped because I could read her nonverbal cues and process the information just a tad bit faster. Prior to our call, Julie encouraged me to wear a headset with a microphone. That was great advice. I proceeded to borrow my son's very large gaming headset and in addition to making my voice clearer, the headset actually helped me to focus and blocked out other sounds and most distractions as we were talking.
I'm glad we did this and it was a good experience. I truly couldn't imagine having gone through my first podcast with anyone else. Yes, there are parts I wish I could go back and change and yes, I wish my voice sounded stronger but letting go of perfectionism is my next big life challenge. I have always struggled with perfectionism and I have a pretty good idea why that is but as Julie says:
"You are perfectly imperfect."
I'm thankful to Julie for sharing her platform with me. She pushed me out of my comfort zone and that means growth. If our podcast brings hope, inspiration, or information to even one person we will have accomplished our mission and at the end of the day, that's what it's really all about.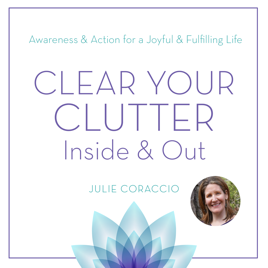 About Julie Coraccio: Julie is a Certified life coach, author, and award-winning professional life organizer. Julie shares steps and tips to support people in creating the life they choose, deserve and desire through decluttering, end of life planning, and mindfulness.
To learn more about Julie visit: https://reawakenyourbrilliance.com/
About Clear Your Clutter Inside & Out: Clutter is stuck stagnant energy that prevents you from creating the life you choose, desire and deserve. In the Clear Your Clutter Inside & Out podcasts, Julie discusses clutter in all its forms: energetic, spiritual, emotional, mental & physical, relationships, health, finances and more. She shares tips and action steps for clutter free living and how to organize your life. She thinks outside the box on areas where people might not realize where clutter is blocking them. As Julie says, "When we remove clutter from our lives we can discover our passions, lead the extraordinary lives we are all meant to live and share our gifts with the world."
Julie's podcast was recently featured in the March 2020 issue of Podcast Magazine.
Note: The featured photo at the top of this post is from Julie and Tony's wedding in 2013. Her nephew Max is front and center. Best photobomb ever!