Meet Ronald R. Fichthorn author of: "Why Me?" My Brain Cancer Adventures, Forever on the Cancer Stage for Life.
---
IMAGINE the following scenario…
The year is 2006. You're a 48-year-old male. You've been healthy your entire life, in fact, you've only been in the hospital twice (once for your birth and the other for the birth of your son). You were a Boy Scout and then a state champion track star in high school. You've been married to the love of your life for 28 years and you have a wonderful son whom you adore. Oh, and you own a 100-year-old home in the Midwest which you personally maintain.
As a child, you had a passion for "art, flying, science, and fixing friends when they got hurt from doing dangerous things." And, as you say; "Despite [the] many rather dangerous things I've done, I've never had anything requiring the intervention of a doctor and a hospital."
As an adult, you became a highly trained aviator and an award-winning graphic designer with 35 years of experience in the industry! In fact, your design work has, "appeared all over the world in magazines, television, print, and film." You're also a musician, a diver, and a lover of history and architecture. You're basically living the American dream until one day when you start having double vision and sharp pain on the right side of your body.
You finally take yourself to the doctor and eventually you receive the terrifying diagnosis of Non-Hodgkin's Lymphoma in the brain or "CNS NH Type B Lymphoma." You suddenly go from being healthy to four brain surgeries and an intensive chemotherapy regime.
Your name is Ronald R. Fichthorn and this is your story. Eventually, you turn it into a 341 (full-color) page book which is "dominated by 630 photos and illustrations that are educational, very humorous, and of course inspirational." You title the book "Why Me?"
You do so much research while going through treatment that you eventually take on the name Dr. Chemo. Following is our interview.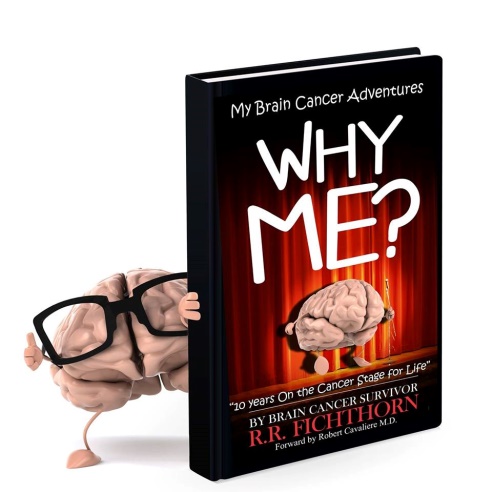 Wendy: Welcome Ronald. Thank you for sharing your story and for taking the time to participate in this interview. Do you mind if I refer to you as Dr. Chemo?
Ronald (a.k.a Dr. Chemo): Yes, no problem at all, it's become my professional name and is easier to pronounce and spell than my last name. I even use the MD (not as a Medical Doctor, but as Mental Defective–although many have told me that I'm a doctor without the paperwork).
Wendy: Oh no! Well, I can't get on board with the "Mental Defective" part so I'll just stick to Dr. Chemo. On that note, can you please summarize your journey and how you became known as Dr. Chemo?
Dr. Chemo: Well here's the Readers Digest version of my journey. Early in 2007, my vision starts to double, medical appointments find nothing. Four weeks later a scan of my brain reveals big trouble. Open me up for the first time in my life. Survived but with many problems that are ignored. Dump everybody and find a new team. Meet new doctors; agree to an aggressive portfolio of drugs.
Open my skull for the second time; remove a large section of my infected and much-damaged skull. Survive first chemotherapy; deep dive into my left lung for biopsies of five questionable spots of concern. Also, install a twin manifold port in my upper right chest cavity for future chemo. The vascular system is extremely compromised.
Invited to give [my] first presentation on brain cancer at the Ohio State Medical Center after six days in the hospital. I give a presentation to the delight of staff and brain cancer patients. Given the name Dr. Chemo that becomes me.
Then things look stable enough to build a new synthetic cranial flap, so they open me up for the third time. My wife of 28 years files for divorce, taking my only son with her. My family, friends, and neuro medical team attempt to protect me in all ways possible. I slip out of remission and we do additional rounds of chemo. The courts and the "legal system" destroy me. I am fighting for my life on two fronts.
Additional brain scans show concern and the best course of action is to open my skull for the fourth time. The conclusion is "the growth" discovered was only post-surgical scarring. I survived, and am asked to write a book about this adventure. Then everything becomes stable, my son returns to me, and I published "Why Me?"
Wendy: You've been through so much! After your diagnosis, you lost everything, but you never gave up. How are you now?
Dr. Chemo: It's now 14-years and I've accepted the fact that 'someday' my tumor 'may' rear its head again. Not even the brightest and ultra-successful neuro-oncologist on the planet can give you a date, or reason. So we watch with apprehension, and while we watch I try to live my life as best as possible even with the disabilities, internal chemical damage, and neuropathy. But on a positive note, I can still run with scissors!
"It's now fourteen years and I've accepted the fact that 'someday' my tumor 'may' rear its head again. Not even the brightest and ultra-successful neuro-oncologist on the planet can give you a date or reason."
Wendy: Well I suppose being able to run with scissors is important, especially if you aim to add "hairstylist" to your long list of skills and accomplishments (cue bad joke drum roll).
(Interview continues once the laughter dies down)… You developed great relationships with your medical team and the other patients around you. What do you think contributed to that?
Dr. Chemo: Here's the tricky part of being a medical professional. You have to turn off the emotional attachment to a patient, or at least that's what they tell you in medical school. That just isn't possible. You can try, and maybe it might be possible for most of your patients, but there will be ones you'll connect with. You develop an attachment because you're human. The hardest part of this discipline titled neuro-oncology is the majority of brain tumor patients succumb to their cancer. Most of my team and I connected on every level, most …but not all. Whether it was medical brain–chemo talk, or life at home. I think they saw me as a positive on what was otherwise known as 'the floor of death.' To this day, I'm still in contact with many of my team even as they dispersed in the crazy world of medicine.
Wendy: You wrote; "One special joy in my day of days in the hospital is when I fell in love with notes on paper or words written on my marker board that inspired me to go one more day. Someone once scribbled on my marker board in bright red, 'Ron, every little struggle is a step forward, now take your pills'."
You described another note that was attached to your laptop one day which read, "Ron in [the] time I've known you, I have discovered that you are a smart, cultured, unconventional individual, but also humble. You're highly respected on this floor and we love you for all your quirks. You can be very playful with a brain that's full of creativity and wit. [You're] fascinating in every way possible and we feel lucky to have you as a patient and as a friend." After finishing your book, I thought that was a great description of your character. How would you describe your personality and sense of humor?
Dr. Chemo: I was influenced big time by the British comedy team, Monty Python. I was unsure how to describe myself, so I asked an old friend. Below is what I received:
"My introduction and acquaintance with Ronald Fichthorn of 43 years begins with our place of employment together, the NCR Corporation in Cambridge, Ohio. 

Describing Ron is difficult because he's very unique; a man of many talents. He is the most amazing man I've ever known due to his extreme intelligence, outgoing  personality, perceptiveness, and unique sense of humor.

Positive adjectives to describe Ron all begin with the letter C: calm, capable, careful, caring, centered, champion, charismatic, charming, cheerful, cherished, comfortable, communicative, compassionate, confident, conscientious, considerate, content, courageous, courteous, creative, and, yes, cute. 

He is polite, well-mannered and smartly dressed. He has a willingness to be who he is and stands out from the crowd. 

One of his main traits is being good to other people; a helper, a person who helps both people, institutions and organizations, making him helpful and trustworthy.

My admiration for him is above reproach; and, in my eyes, no one else can ever compare to him. He is a four time brain cancer survivor, and that is a miracle within itself. During all these extremely painful times he has made time to help other brain cancer patients and has become quite well known in the medical world. He is an author of "Why Me", a remarkable book describing his brain cancer experiences. He is known to all in the medical field as "Dr. Chemo". 

In summary, Ronald Fichthorn is a "Legend in His Own Time." He's also my best friend. If I'm having a "down" day, all I have to do is call Ron; and, in a couple minutes he has me laughing and my whole mood has changed for the better. 

That is Ronald Fichthorn; the Miracle. Cribing Ron is difficult because he's very unique; a man of many talents. He is the most amazing man I've ever known due to his extreme intelligence, outgoing personality, perceptiveness, and unique sense of humor." 
Wendy: Wow! That is quite a thoughtful letter and testament to your character (and looks)!
Let's move on to your son. He was 11-years-old at the time of your diagnosis, what do you most hope he has learned from your brain cancer journey?
Dr. Chemo: My son had a very difficult time, and it showed. He was tied to my hip since birth and we did everything together. When my brain cancer event happened, his grades plummeted and unfortunately, when my wife filed for divorce he was controlled by a biased legal system that he hated. The hardest part for him was the thought that I'm dying. The most damaging problem was not only the horrors of witnessing cancer therapy but the loss of his home environment and listening to distorted or filtered news on the current condition of his father. He told me he stopped listening to them and tried his best to listen to me.
When he turned 16 he came back to live with me and our first goal was his driver's license (he passed his examination with me cheering him on). He's been happy ever since with his dad. He became a successful electrician but doesn't like to talk about those dark times and a chance he may lose me.
Wendy: Which did you enjoy more while creating your book; writing or designing and why?
Dr. Chemo: It's a turn-on to create something from nothing. Designing is natural for me, the writing not so much. To this day I still don't know or understand what a dangling participle is.
I won my first award submitting an illustration at our local county fair when I was 15. After graduating high school, I was accepted into one of the very best design schools (which was tough to get into) and I graduated. I had a super career. I still design today.
Wendy: Congratulations! I have to say, your designs are pretty incredible! And about the dangling participle…yeah!
Now, for the next observation/question. In "Why Me?" you often drew on your aviation training as you went through treatment. You spoke about how the lessons you learned in flight school helped you to analyze situations. For example, you said when presented with a problem, it's important "to first identify it, confirm it, weigh the options in seconds and execute a solution." How did that guide your decisions as you were going through your treatments?
Dr. Chemo: I have been a pilot since graduating flight school in 1980. I soloed my first airplane with just under six flight hours in my logbook, (the average pilot in training to solo is around 10-15 hours). I am a rarity in flight training. My flight instructor believed I was a reincarnated fighter pilot from long ago; he was surprised how the airplane and I became one.
Flight school taught me many very important things. We were told by our flight instructor the first rule is; "Put your aircraft on the ground and then figure out the problem." Fast forward to six months later and I had an engine failure while still in flight training. It appeared as a fuel problem and now I'm flying a dead-engine airplane to the ground, landing safely behind a shopping center. It was a one-shot deal with the possibility of a crash and death. The plane and I were fine. Discovered an incorrect fuel cap problem (wasn't screwed on correctly) and I made the local newspaper. Flew back without issue and found my instructor in a local bar drinking.
Below is my logbook, I have a few thousand hours in all types of aircraft and still have my license. The photo that the Ohio State Medical Center James Cancer Hospital chose to use of me on their testimonial page is of me in the cockpit of a WW2 bomber. I have loved aviation since I was a child of six.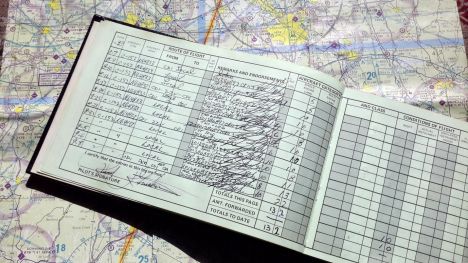 Wendy: Incredible!
You often joked about people mispronouncing your last name. What is the origin of your last name and how is it pronounced?
Dr. Chemo: Now this is a difficult question with a fuzzy answer. My understanding is the name Fichthorn began in Bavaria hundreds of years ago, but toss in a bunch of wars, sprinkle immigration internally in Europe and then the United States it still is a challenge following the ancestry. The only thing I'm confident about is the name Fichthorn was misspelled and mispronounced throughout history and is still a problem today. Below is just one example of the misspelling of my last name when I was a patient on the eighth floor of the James cancer hospital.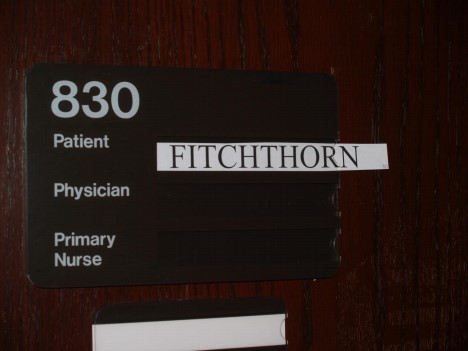 The correct pronunciation of Fichthorn is pressing your lips together and make a Fiiii sound, then snap your tongue to make a K, finishing out with THORN.
Wendy: Holy Moley! Thank goodness we are doing this interview via email! I don't even want to think about the carnage I would do to your name. Yikes!
So, this fall you will celebrate 15-years of survivorship. There is a wonderful gallery of images you created at the end of "Why Me." Do you have any plans for updating it to incorporate the 15-year mark?
Dr. Chemo: I did this poster below celebrating my 14th year of survivorship.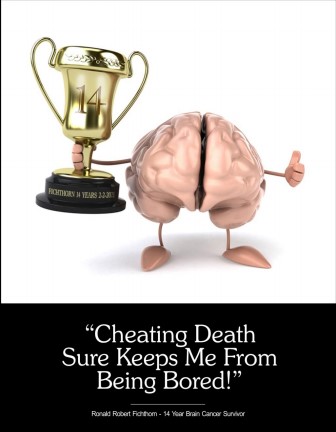 I also created the decal for my car celebrating my 14th year of survivorship. It will be updated to 15 assuming I don't get hit by a car.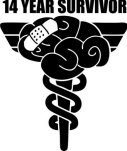 Wendy: What message do you most want people to get about brain cancer?
Dr. Chemo: First remember these three words when it comes to brain cancer, they are "NEVER GIVE UP." It's worked for me despite many times when everything appeared so dark.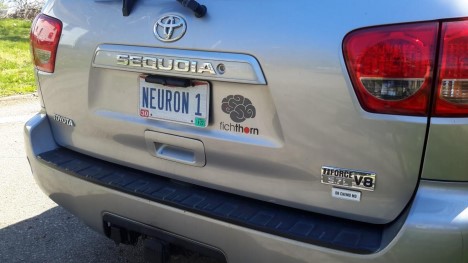 Another thing is brain cancer has literally no voice and poor visibility. Part of my mission is to create more imagery that brings us as patients with this horrible disease to the table. Below are just a few things I've done.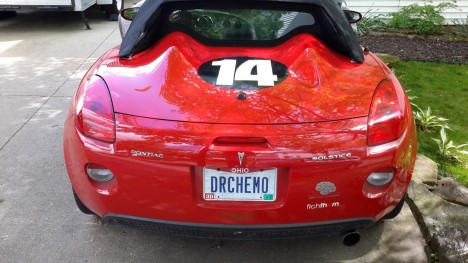 I purchased this Pontiac Solstice car (on my bucket list) when I heard the words, "Your tumor is stable…celebrate now." I use my car as a billboard with not only my Dr. Chemo name but that racing number on the rear trunk changes every year I have survived this cancer. It stated at the numeral three and now it's 14!
Even my mailbox participates in this journey (see below). Ironically this does open questions about Grey Matter.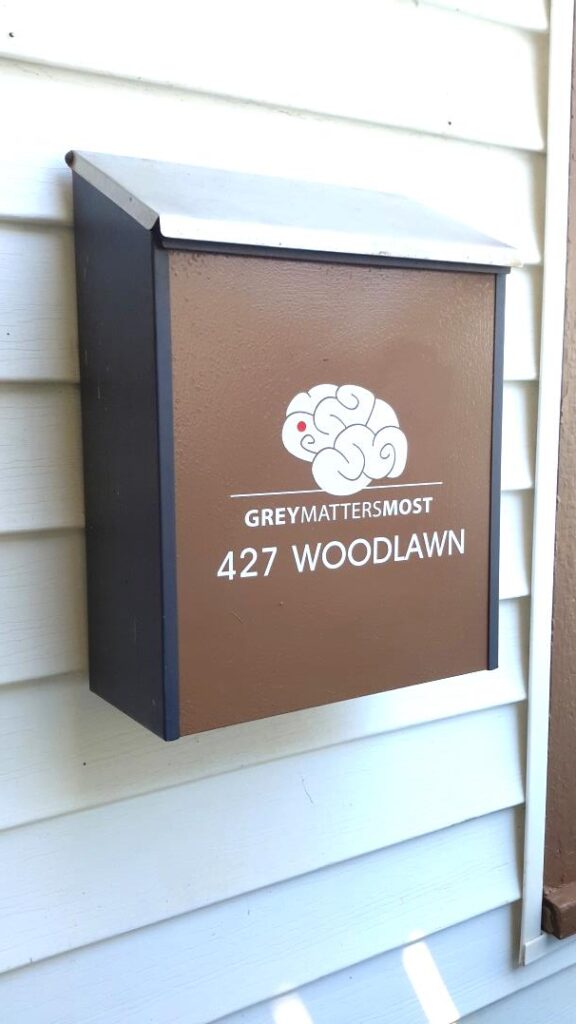 Wendy: What else would you like the readers of this post to know?
Dr. Chemo: Following is a poster I created and framed that hangs in my office. It attracts attention and questions about brain cancer as well.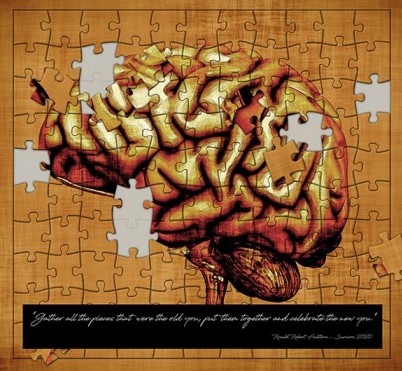 It reads, "Gather all the pieces that were the old you, put them together and celebrate the new you!" These words came to me after meeting a brain tumor patient at a cancer conference that was having a difficult time surviving the ups and downs of this disease.
"Gather all the pieces that were the old you, put them together and celebrate the new you!"
I believe that says it all.
Wendy: Nicely put, Dr. Chemo! Below is a gallery of some of my favorite images from "Why Me?"
Stay tuned for the next book by Ronald Fichthorn (a.k.a Dr. Chemo):