The following is a copy of an essay that I wrote for the American Brain Tumor Association (ABTA) and was published in their quarterly newsletter, MindMatters in May of 2021. Click on the image below to view the article on the ABTA website.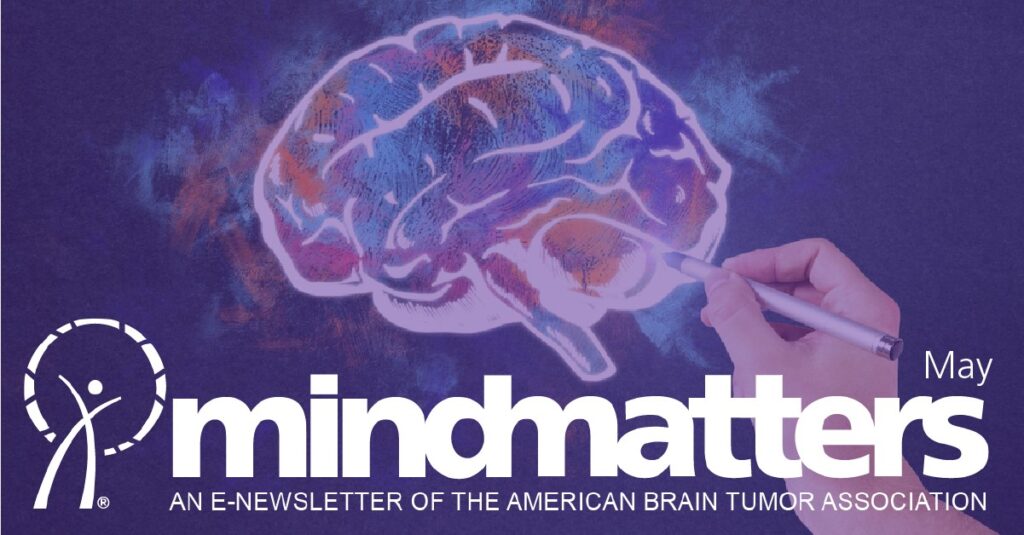 ---
When we quiet ourselves down and listen to our inner voice, something truly magical happens.
Prior to the discovery of my brain tumor, I was unable to sit quietly for any extended period of time. I guess you could say I was too busy dodging my feelings to slow down and feel how I felt. I blame part of that on unresolved childhood trauma carried into adulthood. My mind was constantly racing and my body was just along for the ride.
Go! Go! Go!
Meditation? Forget it! I tried meditating several times prior to my craniotomy and it was downright agonizing. It's probably no surprise that I became a workaholic and was incapable of quieting the 'perfectionistic' anxiety-ridden chatter in my mind. My self-esteem was completely tied to my accomplishments. I took great pride in my ability to push myself beyond my limits. In all fairness, I loved the non-profit work I was doing, and I worked hard to obtain and maintain success as a non-profit leader.
Then one night in October of 2014 while I was reading in bed with my young son, everything came to a screeching halt. I was suddenly frozen in a fetal position. I couldn't speak or move.
As it turned out, I was having a grand mal seizure. I was rushed by paramedics to a local hospital and eventually given the diagnosis of a malignant brain tumor. I had a biopsy to confirm the diagnosis followed by a craniotomy several weeks later.
Losing "Everything"…
When I awoke from the craniotomy, my world as I knew it was over. I had aphasia (impairments to the expression and understanding of language, reading and/or writing) and temporary right-side paralysis. I become extremely sensitive to light and loud sounds. I was in the hospital for about a month and I fell into a depression. To top it off, my steroid medication caused temporary diabetes.
I went from being a leader who could easily speak in front of crowds and use my voice to connect with others – to relearning how to walk, shower and process simple words again.
As someone who had my entire identity tied to my career, I was lost and I believed I had lost everything. I was alive, but also devastated. I wasn't mentally prepared for any of it…at my lowest point, I didn't feel seen or heard. I felt like I was nothing.
Finding Myself
After a couple of years, I eventually regained my ability to speak and my right-side flexibility slowly returned. I was experiencing moments of acceptance along the way, but I was still depressed. Eventually, I met a woman named Shoshanah through a yoga class for cancer patients. Shoshanah invited me to a meditation class she was conducting and I decided to try it. Shoshanah helped me learn how to integrate and accept the lowest points of my post-craniotomy experience through mindfulness and gratitude. She taught me to say 'yes' in my mind to dozens of things each day.
I started by saying 'yes' to flowers, trees, birds and butterflies during my daily outings. I even said 'yes' to things I didn't particularly enjoy, because saying 'yes' was a way of acknowledging what I was experiencing in the current moment. Eventually, I started saying 'yes' to opportunities, which led to volunteering with the ABTA and public speaking again. My confidence was starting to return, but this time it was coming from within.
Learning to Embrace Acceptance
I began experiencing positive self-talk and started redefining myself. I became empowered. I recognized that when I finally stopped trying to return to the person I was pre-craniotomy and embraced acceptance as my post-craniotomy self, the better things were for me.
This was a very gradual process that came only after I learned to be okay with the quiet time I needed. For example, I accept my brain easily becomes fatigued now, and I am able to plan my days around conserving my energy for the important things (like spending time with my husband and son). I've learned that when my brain says 'stop,' I have to listen. I'm more at peace, and I've discovered that, during these quiet times, the best ideas and solutions flow to me.
Remarkably, I picked up new skills and enhanced skills, I didn't realize I had prior to my diagnosis. I started cooking and writing. I previously shied away from both of these things. Prior to my diagnosis, if you would have told me that someday I would be preparing meals up to three times a day and writing regularly on my blog, 2ndChance2Live.com, I wouldn't have believed you!
I am finally becoming the best version of myself. I love using my platform to help survivors feel celebrated, seen and heard. Part of that derives from the fact that at my lowest point, I didn't feel any of those things. So, I've recently initiated a campaign through my blog called A Face of Strength, which is designed to promote brain tumor and cancer awareness, while celebrating the incredible strength found in and around the brain tumor and cancer communities. This social media campaign will feature 365 survivors and supporters with inspirational quotes for each day of the year.
I am very proud of this digital footprint because it's my way of ensuring our 'survivor' legacy. I truly enjoy sharing acceptance in this way. You could say it's become my form of art.