The Inside Scoop — a behind the scenes look at an ABTA Regional Educational Meeting 
(post 1 of 3)
An interview with metastatic brain tumor patient and fellow panelist, Niki Kozak.
In September, I penned a blog post as an attendee of the American Brain Tumor Association's (ABTA) "2020 Virtual National Conference" (click here to read the post).
Last weekend, my husband and I had the opportunity to participate as panelists during the patient/caregiver segment of the ABTA's "Regional Patient & Family Meeting" in partnership with Keck School of Medicine at USC and USC Neurosciences.
Since I wrote about ABTA's National Conference from the viewpoint of an attendee, I decided to take a different approach this time and offer a series of three blog posts related to my experience from the 'inside' and give you three different perspectives from interviews with the following individuals:
Niki Kozak (patient speaker from the patient/caregiver panel)

Emily Lippert (ABTA's Program Manager)

Josh Neman, Ph.D. (the event Chair)
There are more than 120 different types of primary brain and CNS tumors (which is what I usually write about). These tumors rarely travel to organs outside of the brain and spinal cord. On the other hand, there are cancers that start in other areas of the body and can travel to different organs including the brain. These are known as metastatic brain tumors. The most common types of cancer to travel to the brain are lung cancer, breast cancer, skin cancer, colon cancer, and kidney cancer.
Niki's cancer started off as melanoma on her shoulder in 2007. She had it removed but then to her surprise in 2013, she suddenly learned it had metastasized to her brain and lungs.
Wendy: Welcome, Niki. Has anyone ever mentioned that you have the name of a rockstar? Seriously, Niki Kozak….what a cool name! In fact, I can hardly think of a more rockstar sounding name than yours. While you may or may not be a rockstar in the literal sense you are certainly a rockstar cancer survivor! In any case, you have been working as a morning radio show d.j. for several years. How did you get into that career and do you think your name helped? (ha, ha)
Niki: LOL! First of all, thanks for having me! I'm almost 100 percent certain it was the name that got me the job. That, or it was the station's utter desperation to fill the morning show opening. Fortunately, upon learning my true legal name, they didn't opt for another applicant. Ha! In all seriousness, I began my career in radio entirely unintentionally. I was a 'late bloomer' college student, extending the four-year education to a 17-year journey. By the time I graduated, my experience was retail work, and 'being a mom.' While the 'mom' job worked nicely on my resume for 'team management' experience, it wasn't opening too many doors. During my senior year at Cal Poly SLO, I tripped into an internship opportunity with the promotions/marketing team at a cluster of local radio stations. My boss moved out of the area two weeks after my internship ended, and I was offered her position as director of promotions/marketing. I was working my new full-time job with one semester of schooling to finish! Within a year of working at the station, the morning show co-host of our country station moved on to ESPN. The General Manager and the remaining morning show host approached me about taking on the extra 'on-air' duties. So began my overachiever career and working waaaay too many hours.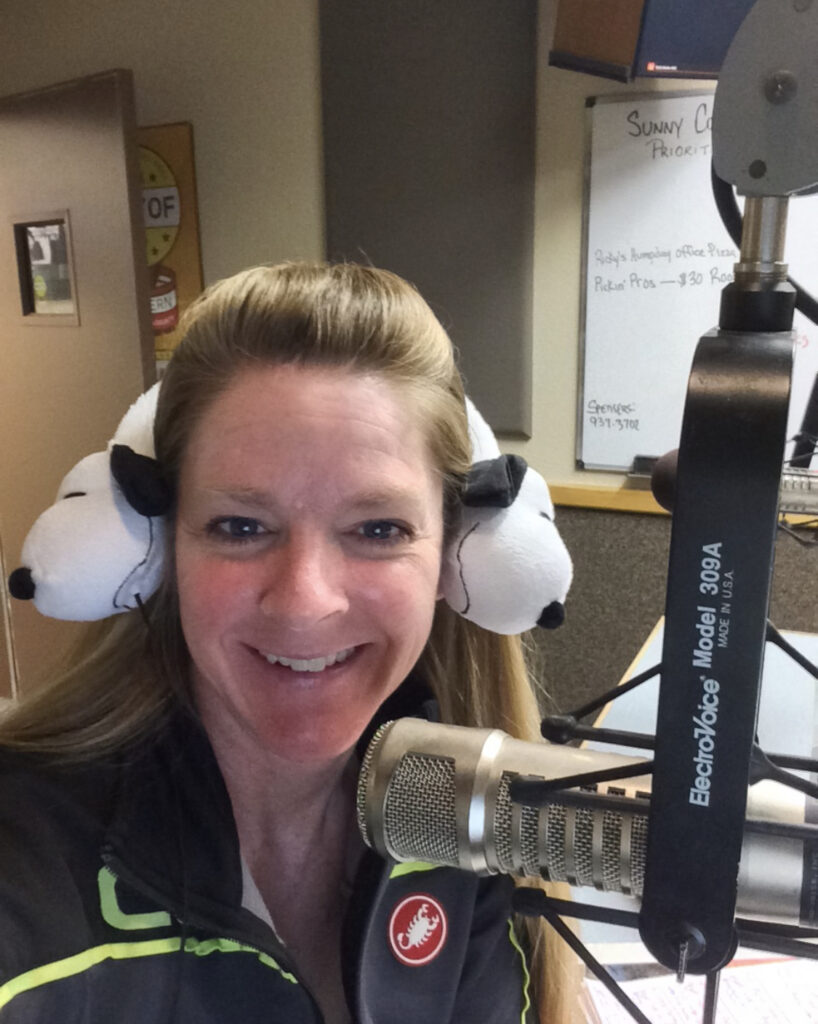 Wendy: You have an interesting story about what you were doing and where you were when your brain tumors were discovered, can you please share that story here?
Niki: As a morning show, we had most of the cool stuff to give away. Concert tickets, pre-release CDs from artists, tickets to Disneyland, etc. On that fateful morning in April 2013, we were taking calls to answer our "inGoogleable" question! My morning show partner would answer the phone, I would read the question, and we would air the recorded phone calls coming out of a commercial break. The first few sets of calls went smoothly. About 20 minutes into our contest, I began 'stumbling over words' as I tried to read the question. Little did I know, what was actually coming out of my mouth was far worse than 'stumbling.' My partner ended the call abruptly and asked if I was ok. Apparently, I'd gone catatonic. It was at that point he called my husband. Yes, my husband, not 911. LOL! He asked my husband if I'd ever gotten so angry, that I refused to speak. At some point during his call to my husband, I fell off of my chair and onto the floor in a grand mal seizure. This was quite a surprise to all, as I had (as usual) brought my bike to work that day, in anticipation of my very regular 20-mile lunch ride. I woke up on the floor while being strapped to a backboard for loading into an ambulance. Oddly enough, I felt very calm and at peace. My biggest concern was for someone to call my son and have him come to the station to pick up my bike. HA!
Wendy: Oh my gosh. So funny (now) that your partner chose to call your husband rather than 911. It sounds like your husband had a similar reaction to the diagnosis of your brain tumors as my husband had to mine. They both took charge of our situations and had us transferred to larger hospitals (centers of excellence with coordinated care). You went to USC (Go Trojans!) and I went to UCLA (Go Bruins!). We are both fortunate that we ended up at such great institutions. Like you said, "you don't mess with your brain, it will take you out."
What were the various treatments that you endured since 2013 and why do you think it was so vital that you were treated at USC?
Niki: Between 2013 and 2016 my treatments included: two craniotomies, 10 rounds of gamma knife stereotactic radiation (37 tumors zapped), the removal of my lower right lung lobe, four infusions of Yervoy, four months of Mekinist, and 29 infusions of Keytruda. Being at USC was literally life-saving. My entire team is/was able to coordinate care and exchange the latest research information from their areas of specialty. While we have some incredibly intelligent doctors here in my local area, they simply do not have the vast experience, access to lab research, and ability to have 'hallway chats' with the others involved in 'patient care.' My neurosurgeon at USC scheduled the appointment with USC Radiation Oncology. I met my radiation oncologist while still in the hospital for the first craniotomy. Patient coordinators from USC's Norris Cancer Center had already sent my pathology results and information to medical oncology, where I was booked for an appointment with an oncologist dealing entirely with melanoma patients. Not only did he see patients in the clinic, but he also had a research lab on site. He was able to grow and test a sample of my specific tumor cells in his lab, finding a very unique mutation, which led to a research project that opened a new treatment door for me when things were really going downhill fast. The success of that treatment turned out to be vitally life-extending, getting me through to FDA approval of Keytruda. Radiation Oncology conferred with medical oncology regarding concern over how frequent the need for gamma knife treatments had become. Medical oncology spoke with dermatology to remove a subcutaneous lesion to use as a lab project. Upon the success of the treatment, this led to, medical oncology appointments scheduled with thoracic surgery to remove the lung lobe 'seeding' the brain metastases. Radiation oncology worked with thoracic surgery to get me in for an MRI with a compatible chest drain. I can point back to the entire chain of events in which USC's internal team coordinated care and took a load of work and stress off of my shoulders. It all factors into the fortunate outcome that I have had. This is the nature of centers of excellence. It is at their core.
Wendy: Wow! Just wow! I think now people know why I referred to you as a 'rockstar cancer survivor' at the beginning of this post. At what point was it discovered that the melanoma had also traveled into your lungs? And, how were your treatments prioritized?
Niki: We learned of the lung lesions via chest x-ray within a few days of my landing in the ER. However, it wasn't until pathology from my craniotomy confirmed melanoma as an official diagnosis. As mentioned above, 'your brain will take you out.' The brain was number one for treatment. Humans can have quite extensive spread within the body, and not have the extraordinarily detrimental side effects that brain lesions can cause. That said, we did question my radiation oncologist at the consultation appointment, whether cancer is more likely to go from brain to body or body to brain more rapidly. Knowing I had a large lung mass most likely 'feeding' the cancer to my brain, we opted for gamma knife radiosurgery versus whole-brain radiation. We wanted the most accurate and rapid course of treating the brain, so we could move along to treating the culprit in the body.
Wendy: How was your melanoma monitored between 2007 and 2013?
Niki: My initial pathology came back as being a very shallow lesion. Statistically speaking, my odds of recurrence were 2-4 percent. As my medical oncologist eventually pointed out, I tend to be that "pain in the a** outlier to everything taught in the medical books." LOL! Between 2007 and 2013, my primary care physician had me coming in for a general physical and full skin checks every six months. Unfortunately, melanoma can be a sneaky beast. I was an amazingly 'healthy' stage IV patient!
Wendy: You have been through so much, Niki. Far more than any one person should ever have to go through. It's a lot to talk about in 10 minutes during a panel presentation. Is there anything you wanted to share during our portion of the meeting but didn't get the chance to?
Niki: Perhaps only a bit of advice for newly diagnosed patients to proceed with 'baby steps.' Try not to think too far into the future with the 'what ifs.' While human nature is going to be the desire for answers and a want to 'get this handled' so we can 'get back to normal' (sound familiar for 2020?)… sometimes these things take time. It will help save some sanity to take smaller bites until ready for 'now what?' I also highly recommend finding a comprehensive center for care. Seek out the experts who have a high level of experience treating your particular kind of tumor. Find the doctors who specialize in what you're dealing with.
Wendy: During our presentation, you mentioned that you're an "overachiever," and a "control freak." It was then that I knew I had met my soul sister. The facilitator of our session, Emily Rorden, MSN, RN, ACNP-BC asked you a question about getting nervous prior to your scans. You sounded so centered in your response. Have you always been that way?
Niki: I'm convinced there must be an 'overthinker' gene in our DNA strands. Perhaps Dr. Neman can have his lab folks pick around for it. LOL! Yes, my entire life has involved looking forward to potential outcomes. I was a parent's dream as a teen! Ha! Working as a development professional and an executive director yourself, you know that minimizing foreseeable issues is helpful in mitigating the stress of dealing with what can't be controlled in the midst of mayhem. Minimize stress and try to worry only when it has become absolutely necessary to worry.
Wendy: Toward the end of our session, we had some fun banter which you identified as "tumor humor." It was then that you shared your self-proclaimed USC nickname "BRAINFRIED BETTY." Tell us about the "Apple Pie Moonshine" that you brought to your treatments.
Niki: Each year during the 'worst of it,' I would bring my treatment teams a 'Thanks for keeping me alive another year' gift. This typically occurred at the follow-up appointment falling closest to my birthday. 2014 was a particularly difficult year for me with brain lesions. I had seven rounds of gamma treatments during that year alone. It was then, that my husband began referring to me as "BRAINFRIED BETTY" and asking the gamma suite staff if they could possibly target the 'less mouthy and more obedient' portion of my brain. Complete 'tumor humor' or I'd have had a golden 'get out of jail free pass' to 'off him' in his sleep. LOL! When 2015 rolled around, and I was processing ideas for a unique gifts of 'thanks' a friend mentioned that she was making a batch of Apple Cider Moonshine. Knowing my team would get a kick out of this unique type of gift, I went about finding the recipe to whip up a batch of my own. Being the anal-retentive overachieving type, the packaging had to be spot on as well. My graphic design education came in handy for whipping up artwork and ordering round sticky labels for the moonshine filled mason jars, which were then placed neatly into discrete brown paper sacks. We actually had one of the nurses ask where I had purchased the moonshine. She couldn't find it anywhere online, 'including Etsy.' Ha! 'BRAINFRIED BETTY'S Moonshine… cures all whut ails ya!'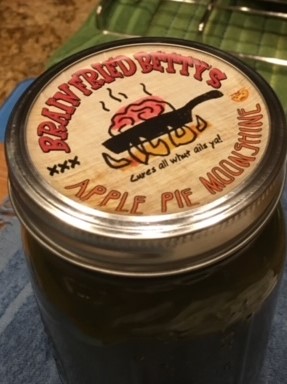 Wendy: When my brain tumor was first diagnosed, I held a contest with my friends and family to give it a name. I think there were around 30 entries. The winner was S.P.O.T (Santana's Perishing Oligodendroglioma Tumor). I thought I was so clever until I started joining various brain tumor support groups and discovered I wasn't the first to give my tumor a different name. You also said you named the scar tissue in the back of your head, "Joey." You are truly unique, I never heard of someone naming their scar tissue before. Why Joey? Is there any significance to that name? Also, I have a large amount of scar tissue as well. Do you think I should name it too? (he, he)
Niki: S.P.O.T!!! Ha, ha, ha! Your tumor has a far better back history and name purpose! 'Joey' got his name from a cat meme I used in my blog. When my initial medical oncologist moved to Texas in January of 2016, everything was going very well with my cancer. I had been 'no evidence of active disease' since December of 2014. It was my first brain MRI following his departure, that a new lesion was discovered in the right frontal region. I told him it was a stress-induced tumor because he had dared to 'abandon me,' and I named the lesion 'Mike' after him. I'm not certain when 'Joey' cropped up on scans, but as I was typing up a blog post to inform friends/family of the new issue, I thought of the new brain spot as 'Mike getting a pet cat.' Searching for cat memes brought up 'Mike's cat Joey.' It was a fluffy white kitty in a science lab. It already had the verbiage in place. It was perfect. Tumor 'Mike' eventually faded away, but 'Joey' still remains.
Wendy: Ha, ha, ha. You are too much! Focus, focus, focus. Okay, back to the serious stuff… I noticed on your website, "Cancer's New Normal" you have an entire section dedicated to "Healthy Living." What additional advice do you have for someone newly diagnosed (whether it's skin cancer or brain tumors)?
Niki: Look for the good outcomes. I used to cringe when people would say 'Oh yeah… my mom/sister/aunt/grandma had cancer too. She died… blah blah blah.' As my oncologist would tell me, "YOU are an individual. You are not a number." Finding positivity in your life may mean turning to little things, like a stranger's child smiling at you, or a sprout of green breaking its way up through the concrete. Pay attention to those moments. You'll have plenty of other stressful moments to face down, so look for things to counteract all of that. Don't expect life will 'return to normal.' Your normal is never going to be what it was. Don't put that kind of pressure on yourself. You may get there physically, but I've yet to meet a cancer patient who is mentally the same person they were prior to diagnosis. Many of them are in a better place, with a greater appreciation for life and the little moments each day contains.
Wendy: What did you enjoy most about being a panelist during the ABTA Regional meeting?
Niki: The opportunity to connect with other patients. I enjoy reading about other survivors' experiences and hearing their stories. It is inspiring to see just how much people can overcome, to see how much 'hidden' life comes out when we get insight beyond a face in the crowd. Meeting you gifted me with another example of a human with will and fortitude. I hope that we were able to pass some of that along to the patients we couldn't see, but were able to speak to. I also enjoyed learning about all of the 'science geek' stuff going on in lab work research and how tumor boards bring the brain geniuses together for the best possible patient care.
Wendy: In my opinion, one of the best things about a virtual presentation is the convenience but since we were dealing with technology, I was anxious knowing anything could have happened. I know, for me I was worried my WiFi would go out. What did you feel were the biggest challenges to being a speaker during a virtual conference?
Niki: Time management and 'listener feedback.' Being in radio, I'm comfortable with speaking to 'nobody.' However, I still find it much easier when there is a human face to read responses on. I found myself naturally more comfortable when there were other faces on my computer screen. Even speaking to just one or two faces was enough to calm me. A live audience provides body language feedback. You know you're being heard. You know if you're boring them, or they 'get it' that you're kidding, rather than being silently horrified. The virtual platform may comfort speakers who are nerve-wracked to speak before a crowd, but I'm of a nature to make eye contact and tailor to my listener.
Wendy: We are our own worst critics. I know following the meeting I had a few regrets (things that I wished I had said or further clarified). For instance, when I was asked by an attendee to clarify my tumor type because she thought her husband had the same kind and she was concerned about his speech, it wasn't until later that I realized she may have thought it was the type of tumor that caused my aphasia and speech issues. I regret not clarifying it was actually the location of my tumor that caused those issues. Do you have anything you would like to further clarify?
Niki: Listening to the playback, I don't believe I ever once mentioned the sheer number of tumors I've had. I did note that they've been 'everywhere, including the brain stem,' but not that there were 37. I also neglected to mention the decisions, insurance issues, and technicalities (tumor location, computer software limitations) that come into play when there are more than four tumors to be treated at any one time. Treatment options for metastases are often more varied than for patients with a single primary tumor. So although there is some overlap in being a 'brain tumor patient,' there are also striking differences.
Wendy: So true. Is there anything else you would like to share?
Niki: If there is anyone out there who would like to reach out with further questions, I am more than happy to try my best to help with answers, or point them to the people/places where they may find answers. We're all in this odd little 'club' that none of us would prefer to have joined. The upside to that, being 'you're not alone in this.' Also a quick note of gratitude to my team at USC (and the residents who have moved on to attending positions elsewhere!). If they don't all know how much I appreciate their expertise, their patience, and their seemingly selfless dedication to their 'work'… I want them to know they're appreciated beyond words, and I love them only second to my 'two reasons for living' (aka Frank and Ryan).
ABTA conferences and meetings are offered free to patients and caregivers thanks to the generous support from sponsors (see list below) and donors.
If you would like to donate to the ABTA to support research or future informational activities click here.