Using humor to convey messages of Hope, Healing, and Happiness during a medical crisis.
"I've realized the final stage of healing is using what has happened to you to help others. If these words are able to help even one person walking a similar path, this book will be a win."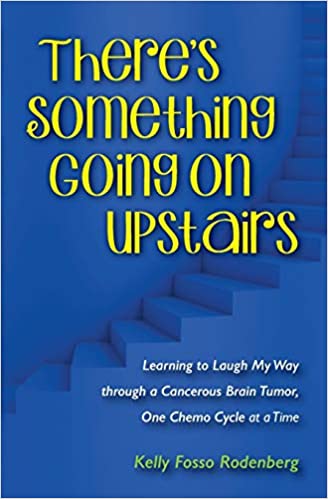 Hay Kelly (pun intended). Thanks for the chance to interview you about your memoir, There's Something Going On Upstairs.
Although your story includes a terrifying terminal illness diagnosis, there's also a universal theme throughout your book of hope, healing, and happiness that anyone can identify with and learn from by the way you coped and persevered.
First, you supported your husband (Bob) through his battle with POEMS syndrome. Then, Bob supported you as you fought an extremely rare and aggressive form of brain cancer. And now, you both sustain each other as life continues on. Your unique journey as both a caregiver and a patient is not only inspiring but it is also invaluable to anyone facing a serious illness.
Before we begin, I need to take a moment to acknowledge your fabulous sense of humor. And no, I'm not just saying that because we both graduated high school in 1985 (go class of '85)! I genuinely appreciated the way you incorporated humor and positivity throughout your story.
In addition to graduating high school the same year, we have a few other things in common too. For instance, both of our neurosurgeons described our tumors as being the "size of a golf ball" and although yours was located in your right frontal lobe and mine was located in my left frontal lobe–both of our tumors were spread across additional regions of our brains. Furthermore, we both choose to use our voices to promote education and information about brain tumors and we are both utilizing our experience to help others.
There are several other similarities in our stories as well, such as the fact that both of our husbands changed jobs not long before we were each diagnosed and the job changes brought them closer to home–making it far easier for them to drive us to our medical appointments. Also, thanks to our husbands, we both ended up transferring to "teaching hospitals" for our craniotomy's which proved to be good decisions. Not only did we both have the best of the best neurosurgeons but both of our tumors are included in case studies. Lastly, like you, I loved my career and I too proclaimed to our financial planner prior to my diagnosis that I wanted to work as long as I could prior to retirement. But as you said, we have to "… let go of the life [we] thought [we'd] live and find sheer joy in the story [we] have."
On a lighter note, we share an aversion to the kitchen (your refrigerator magnet sums it up perfectly: I have a kitchen because it came with the house). Also, we were both diagnosed in mid-October and the date of your surgery (October 30​) happens to be my son's birthday…go figure.
Yes, you are a farm girl and I am a city girl but at the end of the day, we are one and the same.
Wendy:​ ​ So, Kelly, ​ will you please start us off by sharing a brief synopsis of the journey you and Bob have been on since 2012? ​
Kelly: In 2012 Bob was experiencing extreme foot pain; he could not stand the weight of a bedsheet on his feet. He was admitted into a Twin Cities hospital for 14 days with eight doctors standing around scratching their heads saying "You are the talk at the water cooler–we're sorry to say this, but no one has any idea what's wrong with you." Meanwhile, Bob was in extreme pain. He was in and out of a wheelchair and introduced to a pain management specialist.
Day after day the doctors were merely trying to keep him as comfortable as they could. With no diagnosis/relief in sight, we began grasping at any straw we could. My very observant mother happened to be in town and began to inquire about additional everyday symptoms that I hadn't noticed (like his skin appeared a bit darker which I assumed was because we had just gotten back from Cabo. Then she asked about some additional body hair on his chest).
In an instant, it was like a lightbulb went on in the visiting doctor's head. My mom returned with a Wikipedia printout of POEMS syndrome and instantly asked us to get a second opinion at the Mayo Clinic. I immediately asked how many cases of POEMS the hospital where we were had treated. "We've only had one case, and it was twenty-five years ago." Knowing this doctor had been there 16 years, I quickly did the math and inquired "So, you've never ​treated ​it?" He responded, "No, but I remember ​studying it." Looking back, that was a bone-chilling moment (an inquisitive mother in town and an on-call doctor with total recall) that led us to a correct diagnosis.
After a very successful stem cell transplant at Mayo in 2012, Bob and I experienced six rather active and normal years. We were riding bikes, he was back working 50 hours a week and we were fortunate to travel.
The wheels fell off again in October of 2018 when I was diagnosed with a Glioblastoma brain tumor. It literally came out of left field. Within 13 days I was diagnosed and had surgery for a terminal brain tumor. Things moved incredibly quickly. There was zero time for analysis paralysis. Life and death decisions needed to be made. Once I had a successful surgery, there were still radiation and chemo treatments that needed to be completed. I finished those, recovered and prayed for clear MRI scans.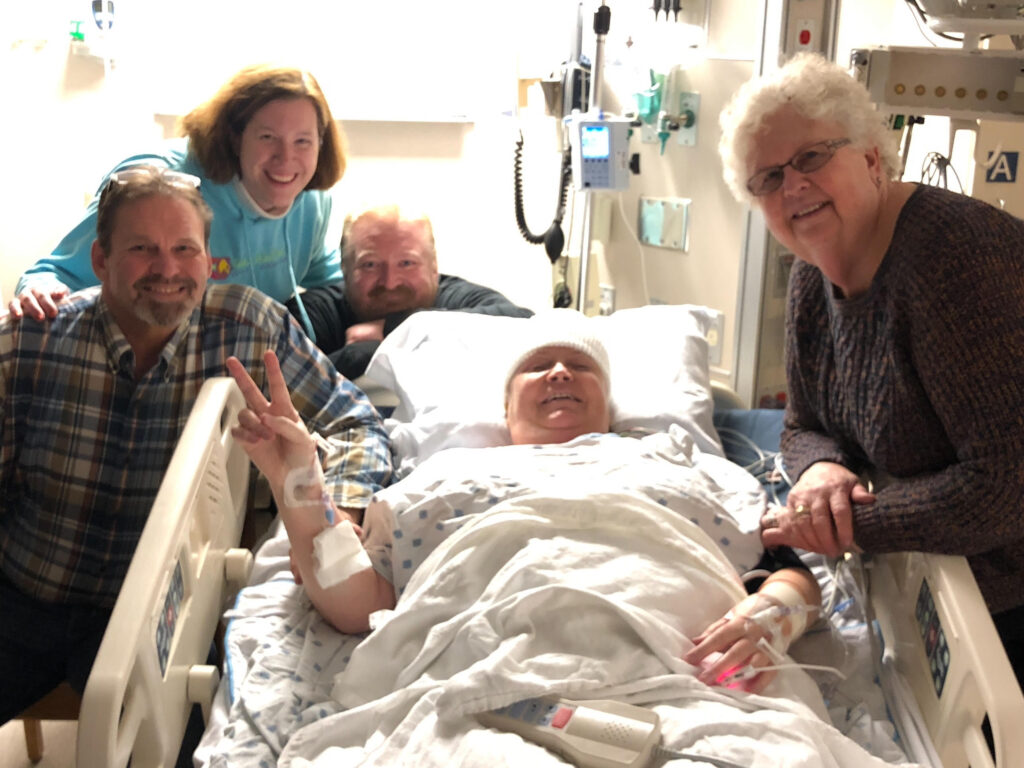 Because of my frequent doctoring, Bob's POEMS checkups had to take a back seat. By the time I had recovered enough so we could go to Mayo for ​him, it was December of 2019. A few symptoms had been creeping back, but nowhere near the degree, he had experienced in 2012. We found out from Dr. Dispenzeri at Mayo that this disease is still as rare as it was back in 2012. Bob is literally three in a million! Thankfully there is a new chemo drug that he is able to take advantage of in a Clinical Trial.
In January of 2020, my MRI wasn't quite as stellar as my first three had been. There was a bit of brain swelling/edema happening, so Dr. Uhm suggested I start receiving twice monthly Avastin (chemo) IVs. I'm now two and a half months into this therapy and the results have been very positive. My husband and I can't help but joke that we're two peas in a pod.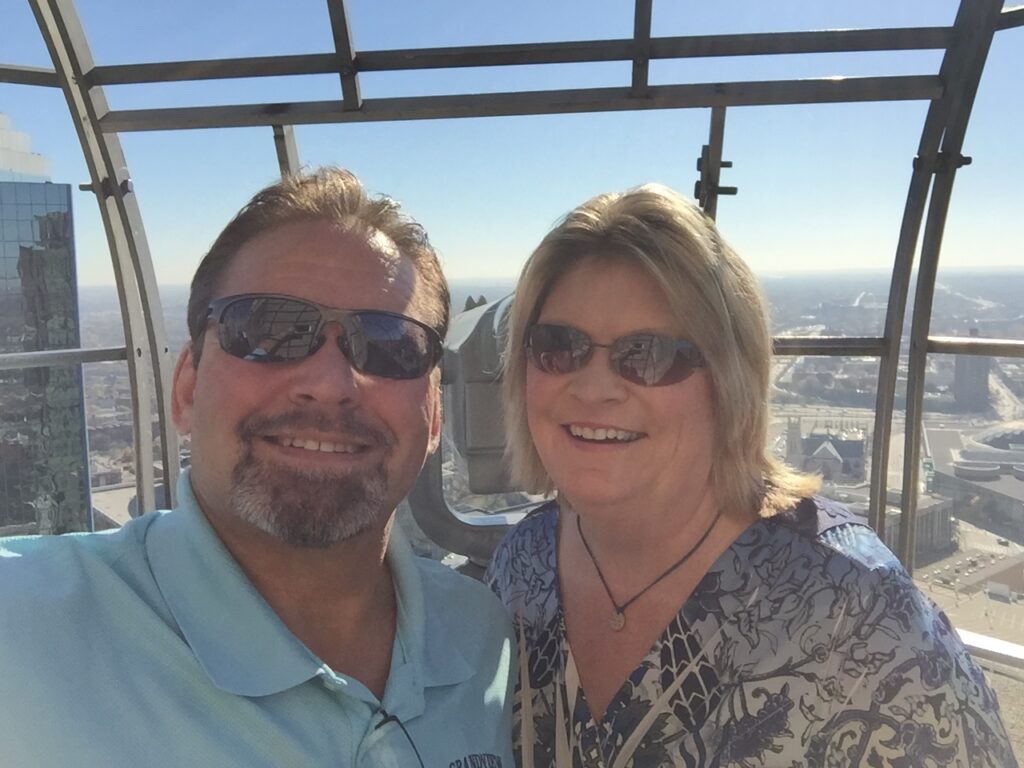 Wendy:​ I love the opening line in your book: "Hi, I'm Kelly Rodenberg. I am fiftyish and live in Chaska, Minnesota, now, but I grew up in a mystical, magical, fairy-tale place—a farm in Kandiyohi County."
I sensed a bit of satire in that statement, yet you also said; "Know that I wouldn't trade where I grew up, when I grew up, or how I grew up for the world."
Can you please help this city girl out by sharing a memory or two of what life was like growing up on a farm?
Kelly: I guess the opening line was just my way of inviting readers to sit down with a cup of coffee and settle in. The hope was to let people know early on this would be a book of humor.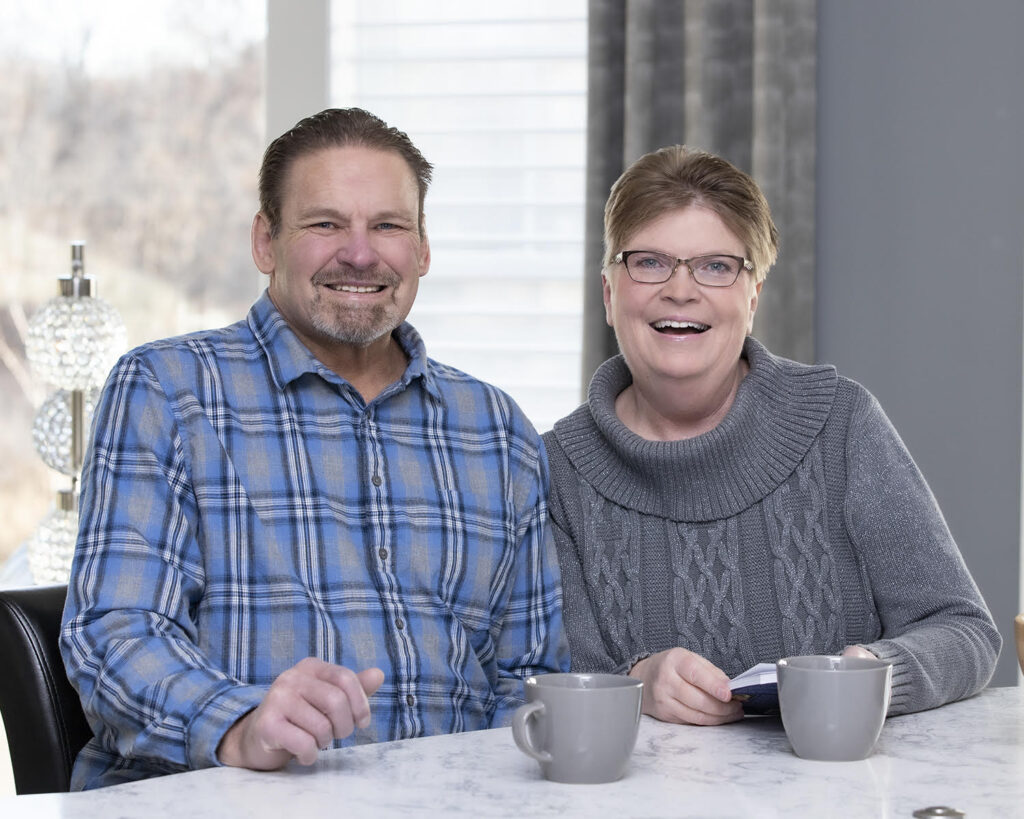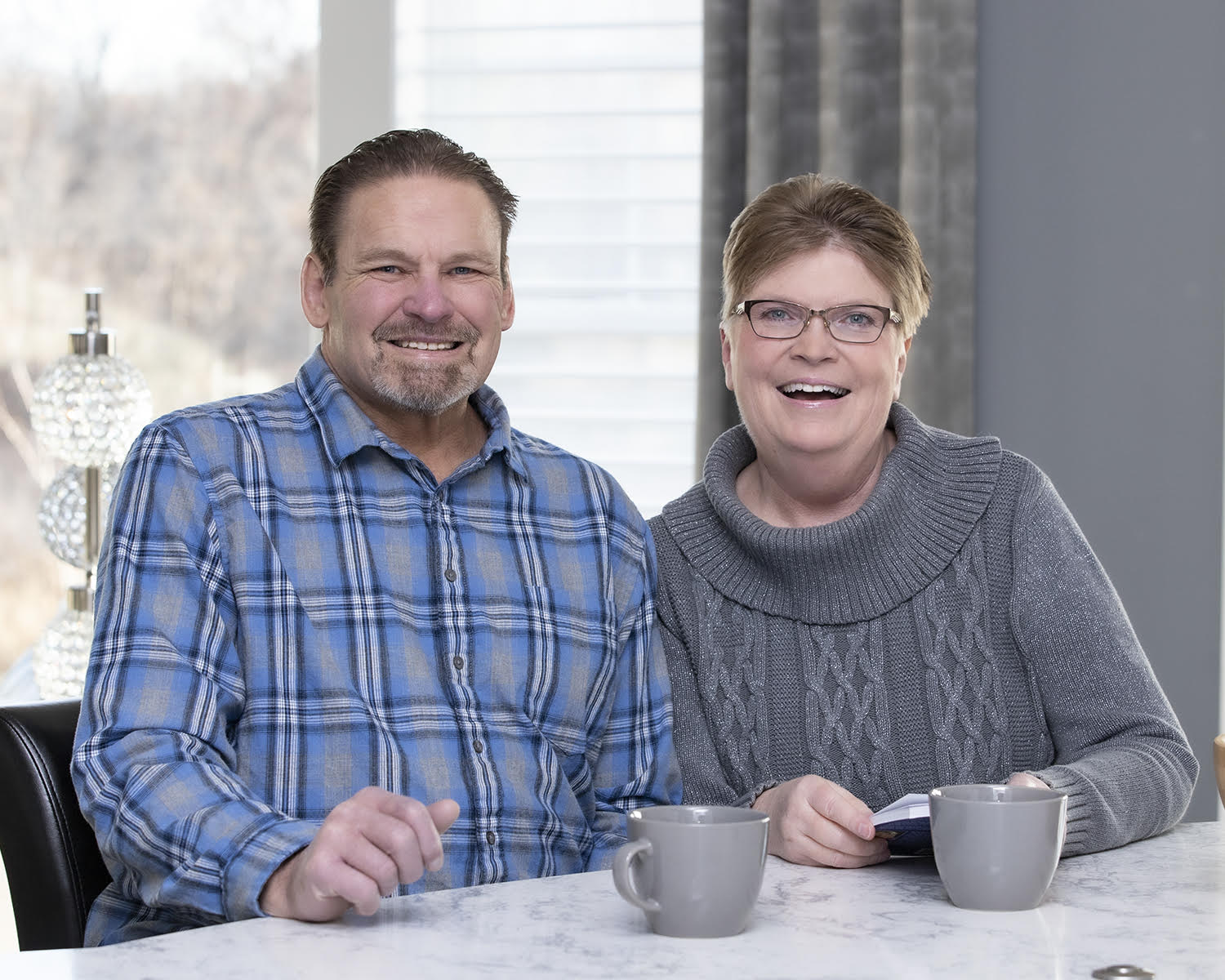 I have such incredibly fond memories of growing up on the farm. We worked hard and we played hard. If I had a choice of being outside helping my dad or baking in the kitchen, I would pick outside every time. From as young as I can remember, dad would patiently allow me to tag along. At a very early age, we were taught what responsibility was and we were expected to help out. If we ever made the mistake of whining ​about being bored, we'd get a pitchfork in our hand so fast it would make your head spin!
Wendy​: You have an interesting nickname (Horse) how did that come about?
Kelly: So the older I got, the more chores I was able to take on. By junior high school, I was on the volleyball team. Dad always joked that I never needed to purchase a gym membership–my workout was on the farm. I think it was the day he caught me carrying four full five-gallon pails of feed (two with each hand) that he jokingly gave me that nickname. The other comment I still laugh about to this day is when I frequently heard him say; "My girl, she sure knows what the working end of a pitchfork is." Truth be told, my work ethic started at about the age of three. I know beyond a shadow of a doubt it was that fighter farm girl instinct that got me through the roughest days of my life.
"I know beyond a shadow of a doubt it was that fighter farm girl instinct that got me through the roughest days of my life."
Wendy: ​ How do you think being Bob's caregiver helped prepare you for your own diagnosis?
Kelly: It gave me insight as to what he was going through. Having previously walked in the caregiver shoes, I knew the highs, the lows, the fear, and the uncertainty. Your perfectly planned out life is suddenly day by day, even hour by hour. That feeling of helplessness when you don't hear what you want to from doctors, the importance of hopefulness and simply recognizing this isn't just one person's fight. The caregiver needs to know when to take time and put on their own air mask first.
Wendy: ​ In what ways would you say your experience as both a caregiver and patient can help inform others about how to deal with serious illnesses?
Kelly: From day one, your goal is to figure out how best to deal with uncertainty. I don't believe there's an overabundance of couples who've had this dual experience. Being a caregiver can many times be a full-time job. We were very blessed with logistics (both for appointment rides and in the case of an emergency). The majority of people are trying to cover all the bases by being a caretaker while holding down a full-time job. My tumor affected my left hand, which I still don't have use of. Suddenly, I had to quickly learn how to be a patient. It was (and still is) hard to ask for help. I've discovered I need to spend my energy bank wisely. At the end of the day, we all need to learn to be gentle with ourselves.
"From day one, your goal is to figure out how best to deal with uncertainty."
The upside to all this is that Bob and I have walked similar paths. Bob knows exactly what it's like to be knocked to your knees by chemo, have zero energy, surrender to a fickle appetite, and be fearful of re-occurrences. I don't expect needing help to get any easier, but I am learning my limits and learning to let go.
Wendy: ​ How do you think your organizational skills such as the Word document you drafted of your symptoms helped your health care provider(s) to quickly come to the conclusion that you needed an MRI?
Kelly: My symptoms were so slight, I believe that list played a great part in early diagnosis. Like I said, within 13 days of my initial left-handed typos, I was in the operating room. I've since learned that some patients go months if not years before diagnosis. My initial examining doctor immediately commended me on the list and asked if he could make a copy.
"Armed with faith, hope, and an abundance of love, this farm girl is prepared to fight!"
Wendy: ​ What were the first symptoms that alerted you to the fact that something was going on upstairs?
Kelly: Uncharasteristically typos at the office, needing help to find a left sleeve when getting dressed, sensing my balance was slightly off and ultimately slicing the top of my left thumb while cutting an apple and not feeling anything. No excruciating headaches, no seizures, no vomiting.
Wendy: ​ You chronicled several miracles as your story unfolded. This in itself was unique since you were (and really you still are) going through such an incredibly scary time. You said; "All along this journey, it's easy to see the numerous small miracles falling into place. Armed with faith, hope, and an abundance of love, this farm girl is prepared to fight!"
Have you always been a glass is half full kind of gal? How do you stay so positive and continue to see the silver lining in various situations?
Kelly: Yes, I guess I like to think I've always been a glass is half full person. Now that's not to say I didn't have down days. Especially during the depths of radiation, there were days I'd think to myself; "Seriously? I'm supposed to get out of bed and brush my teeth today?" It's awful. Props to any fellow patients out there who can occasionally pull an all-dayer. I quickly learned you need to make the most of your good days and be kind to yourself on the bad days.
We were at the height of our Minnesota winter and all I wanted to do was pull the covers over my head. Surely this was all a bad dream. It was at
that time I knew I had to flip the switch. I had to snap out of it, or I was going to reach to point of no return. I allowed myself to feel down, but then I reminded myself that I couldn't stay down. This is/was, after all, equally as scary for Bob as it is/was for me. That's about the time that writing came into sight. It started out as a journal for myself (an outlet, a sounding board). The more I wrote, the more I realized this might actually be able to help someone else. That's what flipped my switch. With so much of life being out of control, this seemed to be a bit of good I could do with a bad situation. So, I set my alarm and got up and wrote some more. What began as a purpose ended up being my life preserver.
"Props to any fellow patients out there who can occasionally pull an all-dayer. I quickly learned you need to make the most of your good days and be kind to yourself on the bad days."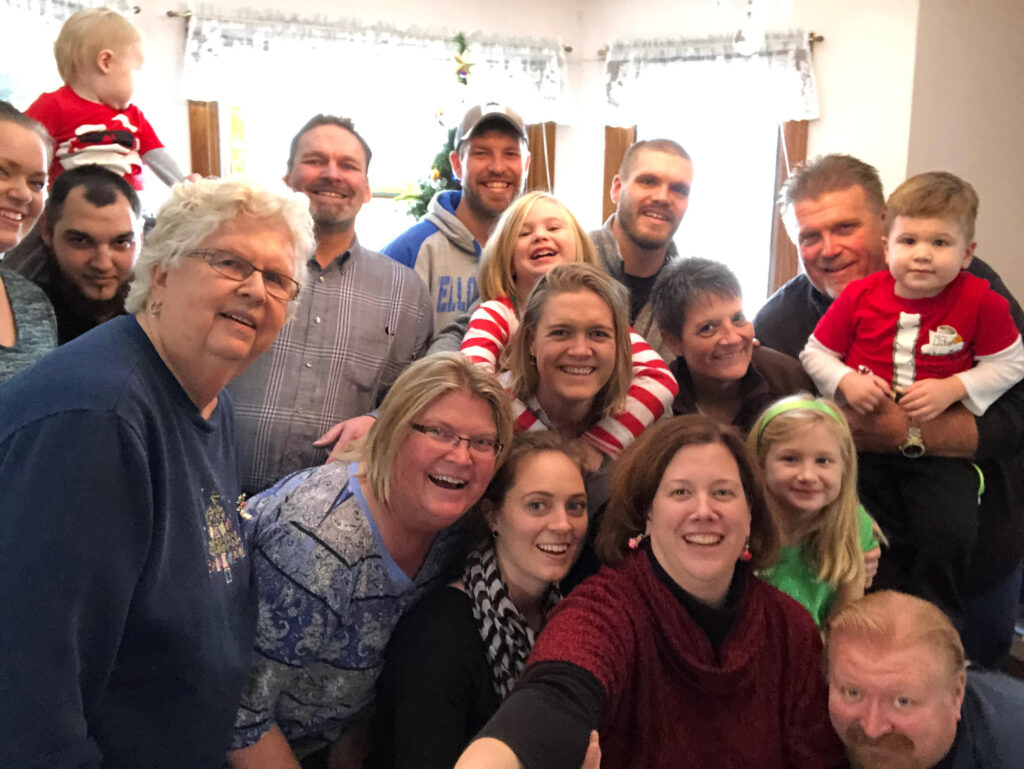 Wendy: ​ What can you tell us about the "Platelet Prance"?
Kelly: It was just a funny little dance I did heading back to my doctor's office chair while I waited to see if my platelet numbers were high enough to undergo the next round of chemo.
Wendy​: As we both know, there is no cure for brain cancer. We are both doing our part though by educating and informing others about this fact.
What do you most want people to know about brain tumors/cancer?
Kelly: Not all ailments are visible ones. Plain and simple, be kind. Most people fail to understand what the eye can't see. That's the thing with a brain tumor, you can't actually see it. No crutch, no cast, no wheelchair. The majority of the time I may look well but not feel well.
"You don't even look like you have a brain tumor." I've heard this a time or two, always said in an encouraging voice. I get it. No offense is taken. Very few people know how to respond in terminal times. It's tough to be politically correct around those who have been slammed by a diagnosis with a lousy prognosis.
Glioblastoma brain cancer is an extremely severe, life-threatening disease. Not only is there no cure, but the tumor has roots. It's not something we fix and move on. Everyone who has this kind of tumor shares the same goal: to manage things the best we can for as long as we can.
"Not all ailments are visible ones. Plain and simple, be kind."
Wendy:​ In chapter 26, you spoke about how blessed you and Bob were to receive so much kindness and assistance from others. As you said; "Throughout life, especially in times of hardship, we are definitely stronger together than we are apart." Following are the summarized suggestions you offered (with details and descriptions that can be found in your book) for people who may know others going through similar situations and would like to help but may not know what to do:
Bare basics grocery shopping.
Offer rides to treatments.
Babysitting or offering to take school-aged children for a few hours.
Bringing a meal or working with a group of friends to organize meals.
Pet-sitting or plant watering.
Texting an inspiring quote.
Consider the caregivers. Their lives have dramatically changed too.
Mailing a gift card.
Paying for a one-time service or volunteering a few hours of your time cleaning, mowing the lawn, removing snow, washing windows, doing holiday decorating, etc.
If you have a willing employer, donating some vacation time.
Think soft and cuddly when gifting.
Sending snail mail.
Donating blood in their name.
Hosting a scarf and hat party.
Since this list was created prior to the current pandemic and social distancing is now required in several states, not everything on this list is possible at this time. Would you like to emphasize, change, or add anything to this list?
Kelly: I would certainly encourage people to FaceTime, Zoom or Skype with those that they can and be sure to check in on friends or family who are alone.
"Throughout life, especially in times of hardship, we are definitely stronger together than we are apart."
Wendy: ​Is there anything else you would like to share with the readers of this post?
Kelly: Inhale courage, exhale fear. I've learned that living with a malignant brain tumor immediately puts things into perspective. What I thought was really important before probably isn't, and things I sometimes take for granted I really shouldn't. I've become abundantly more aware of precious, precious time. The absolute best advice I've been able to give myself is to lighten up, graciously extend olive branches whenever and wherever needed, and simply smile at the things I cannot change. It's been the worst possible way of getting to the best life perspective there is.
"Inhale courage, exhale fear."
Optimism is a great healer and definitely the place where terminal illness will lose. While we have no control over the hand we're dealt, we do have control over how we react to it. While this Glioblastoma is definitely a piece of me, it will never define me. We choose to live life anyway.
"While this Glioblastoma is definitely a piece of me, it will never define me."
Another valuable thing I've learned throughout this process is that each victory is worth celebrating, no matter how great or small. Knowing the best medicine I will ever find is a positive attitude, I try to look at it this way: taking a step backward after taking a step forward is not a disaster, it's simply more of a cha-cha.
Lastly, this lengthy process is better taken in a series of baby steps than in a race where the quickest sprinter wins. We can't rush or control a thing. Ah, except attitude. Attitude we can control.
It's pretty safe to say that all cancer, regardless of ribbon color, stinks. The first day of our journey, we decide whether we prefer to be victims or survivors. Mustering up all the strength we have, we set out to fight this fight we know nothing about and make a conscious choice to remain positive and not let cancer define us.
Thankfully, my faith, humor, and optimism have allowed me to KOKO (keep on keeping on). Now, that's an acronym this farm girl can get used to.
For more information visit: http://farmgirlink.com/