Hello again. I know it's been a while since I've posted here. There's been a lot going on and it was a very busy summer. First, my son graduated from middle school and three days later he started playing water polo for his high school. The entire summer was a blur and now that he's pretty much settled into high school I'm finally regaining my bearings as well.
I'm back and I've got news to share…
Next month will mark five years since my brain tumor journey began. I've been getting more involved in the brain tumor community and feeling more and more like my pre-craniotomy self every day. My objective is to continue raising awareness about this disease and to do as much as I can to help generate funds that provide research and support for brain tumor/cancer patients and their families.
If you recall, last year, after giving my KPCC "Unheard L.A." speech to a live audience I decided it was time for me to participate in my first 5k run/walk with the American Brain Tumor Association (ABTA). I was grateful that my friend Sally supported me in this endeavor and together we raised $844! It was such a great experience that I decided to join the event planning committee this year… and…guess what! I will be the survivor speaker during the event. Just like the KPCC speech helped me to regain my speech and learn that I am capable of tolerating various lights and sounds–volunteering on the event committee has helped me regain my confidence, especially on the phone and in eliciting sponsorships.
So this year in addition to Sally and myself, we have grown to a team of seven other individuals, so far. We are hoping to recruit an additional 16 team members and as of this writing, we have raised just over 50 percent of our $2,500 goal. Thanks again to those of you who have already helped us get to this point.
The 5k run/walk will take place at USC on October 26, 2019, at 8 a.m.
Together we will raise more money than we ever could alone. Together, we can make a difference!
Want to help? You can:
a) Join Us!
We're inviting you to join our team in support of the nearly 700,000 people currently living with a brain tumor. Click here to join our team.
b) Make a Donation!
Can't make the event? Click here to support our efforts with a donation of any amount to our team. The process is fast, easy, and secure.
A lot has happened in the last five years… following is a snapshot:
on December 9, 2014, I underwent a successful craniotomy to remove a large Oligodendroglioma brain tumor from my left frontal lobe.
the craniotomy left me temporarily paralyzed on my right side and with steroid-induced diabetes. For the next few years, I also struggled with aphasia, halted speech, and depression.
thankfully, the craniotomy was followed by several months of rehabilitation. With the support of family, friends and some very talented physical, occupational, and speech therapists; I relearned to walk, write, talk, and drive again.
once I accepted my diagnosis, I began to embrace mindfulness. Eventually, I was able to make the transition from workaholic to a more present wife and mom. There's a certain amount of peace that comes with the acceptance of what is.
Thankfully, I was alive to see my son promote from elementary to middle school in 2015 and from middle school to high school in June of this year. Additionally, our family and close friends witnessed him become a Bar Mitzvah last October.
I've had a few other medical setbacks and another major surgery but I was able to persevere and handle it much better than I would have prior to the craniotomy. I've learned to listen to my body and advocate for myself and others.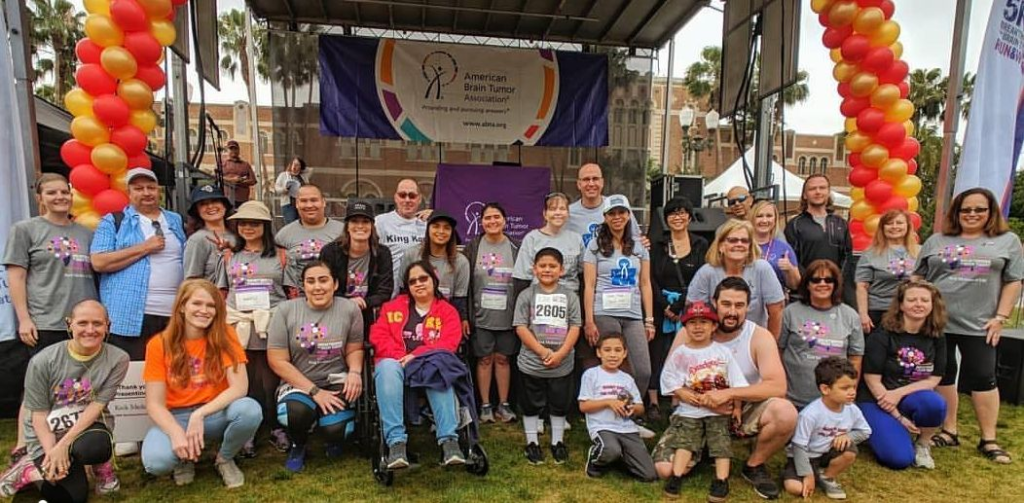 Throughout all of this, I was aware of the ABTA's annual Breakthrough for Brain Tumors Run/ Walk (BT5K) and I yearned to participate. I finally got my chance last year due to feeling well enough…and look at me now!
As always, thank you for your love and support of my journey. I appreciate your time and help more than I can tell you.
With an abundance of love and gratitude,
Wendy