A recap of the 2020 BT5K Your Way (Virtual) Event.
Thanks again to everyone who participated and/or contributed to our #BT5K efforts last year. Your involvement helped our team ("2nd Chance 2 Live") rank as a top team in the Western Region! More importantly, money was raised to support those impacted by #braintumors via #research grants and programs provided by the American Brain Tumor Association (ABTA)!
Our team ended up raising $2,235. We didn't hit our $2,500 goal but we were proud of our effort. Meanwhile our friends, "Team Warrior Isabel" raised $3,668!
The 2021 BT5K will be virtual as well. Click here to learn more. The ABTA is especially looking for team captains and businesses wishing to get involved. Of course, if that's not your cup of tea we welcome you to join/support team "2nd Chance 2 Live." As you can imagine, the ABTA needs every bit of our help again this year.
Below are some of our team photos and a few links to various videos including the following by Sheldon Wright showcasing his immense creativity by completing the BT5K hitting softballs!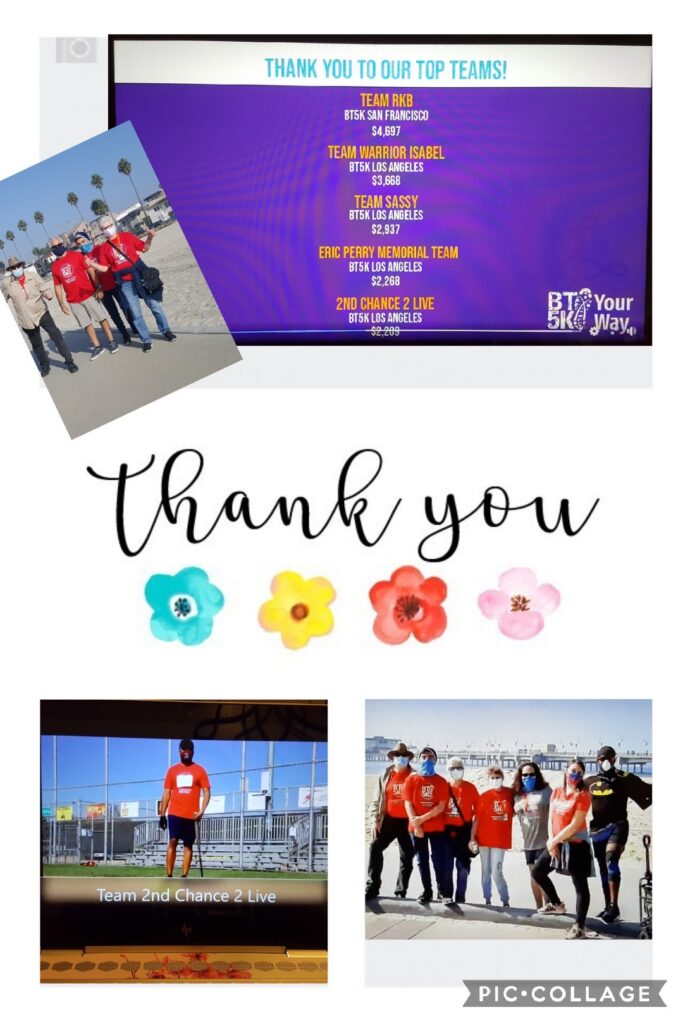 In an appreciative email Kelly Sitkin, ABTA Chief Development Officer wrote, "Across our BT5Ks, we had over 4,500 participants from 46 states and 9 countries! And because of you, we were able to raise over $1 million in support of our brain tumor research grants and patient services. With your help, we can continue our fight against brain tumors."