I recently had the chance to sit down for a virtual cuppa tea and crumpets with Claire Bullimore of the U.K.
After reading Claire's book, A Brain Tumour's Travel Tale, I started following her on social media. I'm a member of her interactive Facebook groups, Brain Tumour Bloggers United and Aunty M. Brain Tumour Chat Room. She really gives brain tumour survivors a space to be heard and an opportunity to connect. Not only is she an inspiration, but she's a leader and creator as well. Simply put, she's the bee's knees'!
Wendy: Hi Claire, thank you for your time. You are one busy lady and you have accomplished an unbelievable amount in the brain tumour community since your diagnosis of a 10cm Intraventricular Meningioma in 2008. For those that don't know you, what is your story?
Claire: Thank you so much for inviting me Wendy, to share my story. I am so glad we connected.
For at least 10 years prior to my brain tumour diagnosis in 2008. I had been having headaches. I was able to control them with the usual aspirin you can buy over the counter.
However in late 2007 when I was 24, my headaches were getting worse and more frequent. I was always feeling very tired.
At the time, I was working in an investment bank within their recruitment team in the city. I loved the London hustle and bustle that goes with a city job, but in 2007 the hustle and bustle became very hard on me.
I went to my doctor for a blood test and it showed I had very low ferritin levels. They put me on some ferrous sulfate tablets. I said I was really struggling with my headaches and that it was causing me sleepless nights. They seemed to just brush off my concerns and sent me on my way.
One night I was sitting in the office and we were all going out for a dinner and to an awards ceremony. I said to my supervisor that I wasn't feeling too good and that I had tunnel vision. I suggested I should go home but she said it was really important that I be there and that I would be fine (I think I could have done with assertiveness lessons at this point). I just couldn't see properly. I found that if I sat still my vision would start to come back. I grit my teeth and got on with it.
The following day my boss wanted to chat. She asked, 'was I happy at work?' I said 'yes, but my headaches were getting worse, especially in the mornings.' Like many of my work colleagues, I would need to wake up at 6.30 am every day to get to work by 8 am. I didn't really have much support from my boss, so I decided to find a new job.
I wanted a job that was nearer to home so that I would be able to have more time in the morning which helped me cope with the headaches. I gave in my one-month notice to leave and then looked for a new job.
In the beginning of December, I found a job that had better hours. I really enjoyed the new role and worked hard. But, in April my memories and my recollections of things were starting to disappear. I couldn't separate my thoughts and was constantly angry inside. I was forgetting important things which was starting to have an impact on my job.
In May 2008 my headaches were excruciating. I had never felt anything like it. It was like somebody was grabbing my head and slamming it against a concrete wall. I tried the usual tablets, but nothing touched the pain. I could only cry and pray that it would stop soon. I was in so much discomfort, I would be sick. Night and day were just as bad as each other. I would dread waking up.
My speech was starting to jumble up during conversations. I would say the completely wrong word. I was having problems with my eyes where my vision would go and come back, even though my eyes were open.
One morning I called into work and said I would be late. I drove down to my general practitioner and went to tell them I needed help. I shared a list of symptoms I had been struggling with:
Migraines
Memory Loss
Fainting
Shaking Hands
Word Finding Problems
Bad Vision
Bad Back
The doctor looked at my list of symptoms and she said, 'I don't know what is wrong with your vision, but let's see if it is related to your ferritin levels again'.
I decided to take myself to my local optician for an eye test. The optician looked at my eyes and I could see she looked concerned. She said that she thought that it might be cysts in both eyes as she could see bleeding pressure in the eyes.
She asked me to go straight to the hospital and said that she was going to call them so they would know to expect me. After a number of tests including an MRI, I finally saw a doctor about my results.
The doctor showed me the MRI scan. 'This is the tumour,' he said. 'Tumour! Will I die?' I asked. He was giving me no hope. I just sat there looking around the room trying to get my head around it.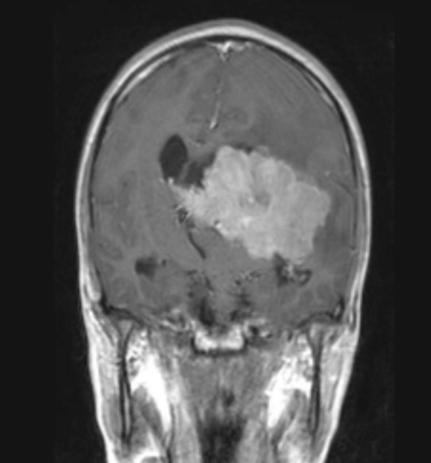 I was booked into the hospital that night and prepared to have surgery a day later. I was introduced to a brain surgeon, Dr. Minhas. He explained what was happening. He discussed potential risks, such as problems with balance, coordination, speech, vision, memory or muscle function, depending on which area of my brain was being operated upon. He said he would not know the extent until we were in surgery.
Ten hours later from my surgery, the surgeons said the operation was a success and they felt they had got all the tumour out and they were sure it was a non-cancerous meningioma."
Wendy: What happened as a result of your brain surgery?
Claire: I was so happy to hear the tumour was all out, but my surgery has left me with life-changing disabilities.
Taking seizure medication
Word finding problems
Quadrantanopia (partially blind)
Fatigue
Hyperacusis
Tinnitus
Weakness on one side
Over the first few years I would have:
Speech Therapy
Occupational Therapy
Physiotherapy
Relaxation Therapy
Counseling for CBT Anxiety and Insomnia
My speech did improve but not completely.
"I still say the wrong word now and then, such as I can't find my feet instead of I can't find my shoes."
I can never remember names or most nouns. It takes me a few goes to get the correct word. I forget things all the time unless I write down notes. I get very tired very easily and have to do things at my own pace, never overdoing it. I am on anti-seizure medication for life and still on anxiety tablets. Due to my Quadrantanopia, it means I am partially blind. I lost my driver's license because of it. That is something I truly miss. The freedom to jump in my car and go on a road trip. Or driving to the local shops and avoiding getting soaked when it is raining. "
Wendy: You have evolved into a brain tumour advocate working with the Houses of Parliament in the U.K. What do you most want people to learn from these activities?
Claire: What I have learnt from being involved with campaigns or fundraising events is anybody can do this. All you need is your time and passion to raise awareness of this terrible disease. You don't need a qualification for this, you are the qualification!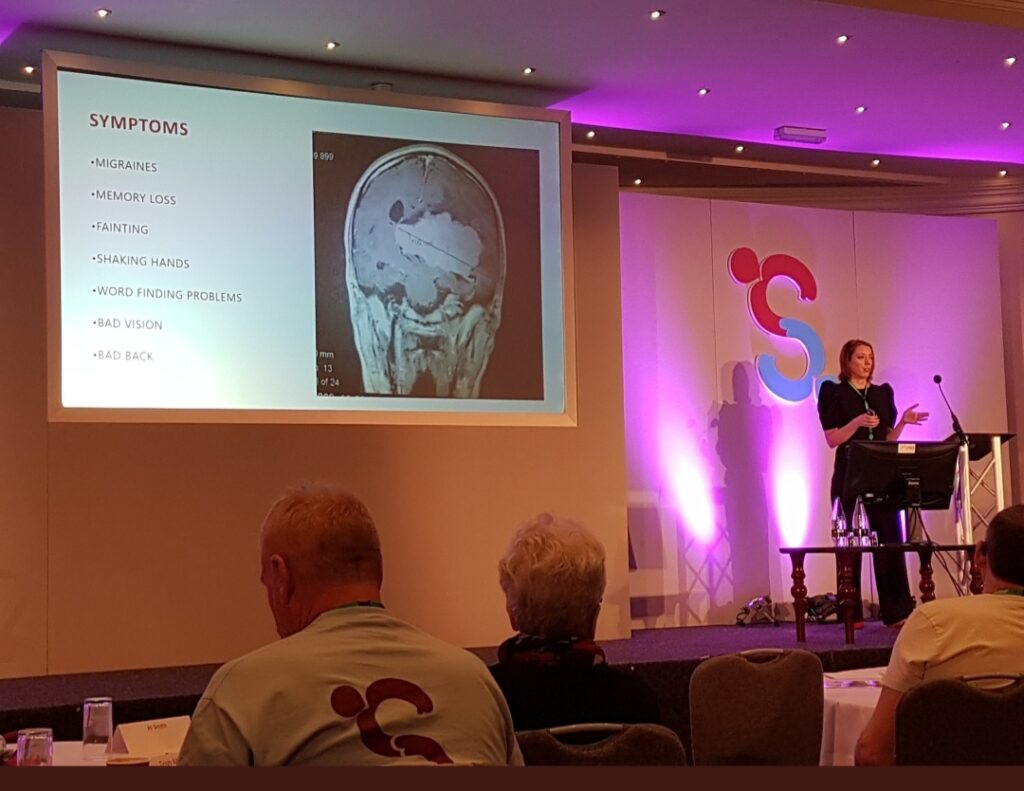 Wendy: Aunty M Brain Tumours currently has over 16,000 followers on social media platforms like Facebook. Can you tell us how Aunty M Brain Tumours grew so big?
Claire: In 2011 Social media was still very new and there were very few brain tumour charities or support groups visible via social media. Because I was stuck at home with my recovery, I wanted to speak with people online. I realized I could meet people from all kinds of countries from around the world through Facebook or Twitter and that is how I set up my own groups.
In the first year, I didn't want to share my name on social media. This was because I didn't want friends and family to see my struggles, not yet. So, I called myself Aunty Meningioma. I then learnt so much more about brain tumours and that there were over 100 different types of brain tumours. So, in 2012 I changed the name to Aunty M Brain Tumours so as not to exclude any other brain tumour sufferers.
As time went by and I was involved more with raising awareness people would join my social media platforms.
Website: https://auntymbraintumours.com/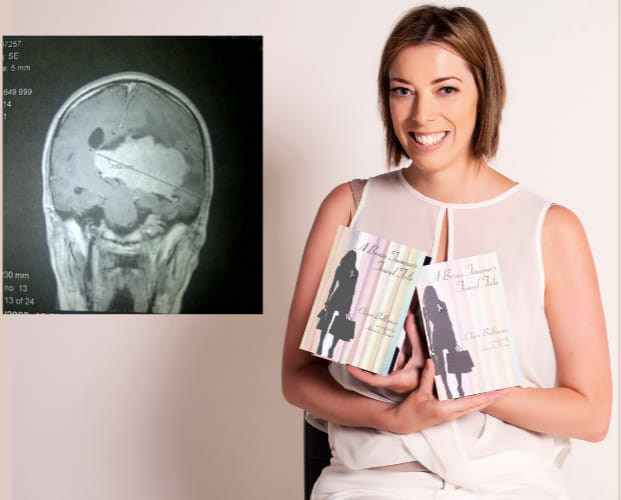 Wendy: In your book A Brain Tumour's Travel Tale you also described what you learned about crowdfunding and crowdsourcing. Can you please tell us how you transitioned that into a book tour?
Claire: Post-surgery I have been made un-employable and earn money through an insurance policy I joined when I was working. This means I don't make a huge amount of money monthly. But it is enough for the basic bills.
I had self-published a book in 2012, A Brain Tumour's Travel Tale. A book that shared my brain tumour experience.
In 2014, I wanted to take my book on a tour around the U.K. and meet the people who I had met on my social media pages and share my book and encourage others to do what makes them happy even with disabilities.
To do this, I reached out to people to help me raise funds through Crowdfunding. Crowdfunding basically means the public help reach a financial goal. It is not an easy way to earn money and it takes a lot of time and promotion but it is doable. I am proof of that. I raised over five thousand pounds and was able to travel around the U.K. for five months.
Wendy: I can very much relate to your speech and noise intolerance issues. I'm amazed that you were able to overcome these for your brain tumour radio shows. How are you coping?
Claire: The radio came about because I was promoting my book on my local radio station in December 2012 and my mum joined me to help with filling in the blanks when I struggled with speech. The lady who interviewed me asked if I would like a weekly slot, so I could continue to support and raise awareness for brain tumours. It would be a two-hour slot every week.
At first, I thought 'no way' that is too scary. But then I reminded myself that 'I will take opportunities now, life is too short.' I wanted to take on the challenge as I have always loved the idea of being involved with radio or just speaking out to the public. I asked my Mum who is incredibly supportive if she wanted to do a duo radio show. It meant I had backup when I struggled with finding words. My mum loves music so she liked the idea of being a DJ.
I said yes to the opportunity and we started in January 2013. Mum played music and I would research brain tumour campaigns or I would ask people on my social media platforms if I could interview them during our show.
The radio went on for nearly four years and it was a great success. The radio was voluntary, so it took off the pressure of being perfect.
To cope with the noise, I just had my headphone volume at a low level, so it was not too loud.
I met some amazing people. In the second year of the radio show, I did a Charity of The Month segment. Every month I would promote and interview people from brain tumour charities. The support they gave to the show was amazing.
Eventually, in 2017 we finished the show and I started focusing on blogging.
Wendy: What can you tell us about your most recent project(s), the Brain Tumor Recovery Journal & Brain Surgery Recovery Journal?
Claire: I am always looking for ways to give back to people who are struggling. I know how hard this journey can be. I came up with the idea to make 'journal prompts.' I wanted to make something specific that will benefit people who have had brain surgery or a brain tumour. I have always used diaries and journals so I made up journals that would encourage and inform people. The journals also provide a place for people to write down their thoughts, achievements and more.
"It is important we see our weaknesses but more so our achievements, even if that is I got up today."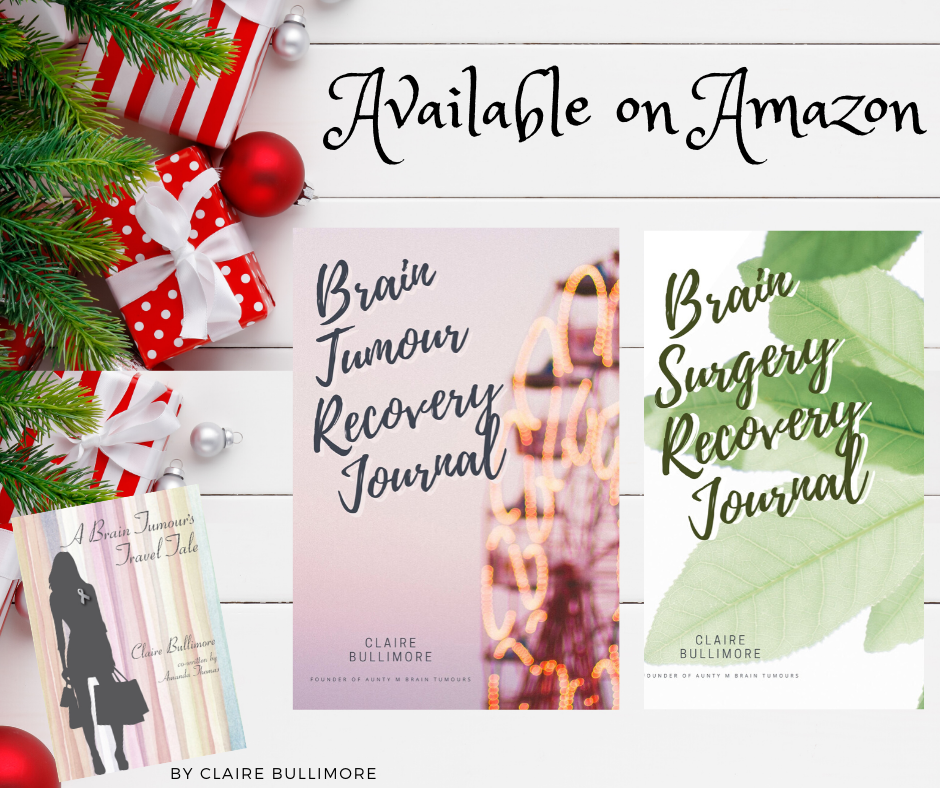 Published BOOKS Available on Amazon: https://www.amazon.co.uk/Claire-Bullimore/e/B00J15KESS/ref=dp_byline_cont_ebooks_1
Wendy: What else do you want people to know?
Claire: After my surgery, I looked a mess and clearly looked like I had problems, but after the scar was healing, and my hair was covering my war wound it was and still is hard to see at first glance that I have problems.
For that, I am grateful that I look well, but, it means my appearance is misleading.
"People may never truly understand what you are going through and will not realize you still need people to be understanding, that you need help or you need to take things at your own pace."
It is time to start a new road map for you with new goals. It will hurt at first but when you start with a new goal it is then up to you to achieve it at your own pace.
Don't let tumours define you or take any more joy from your life. Fight those negative thoughts that pull you down.
Fight the fatigue that won't let you say yes to opportunities. Don't overdo it but don't say NO to everything. Just pace yourself.
---